As Spielberg's animation supervisor, Bob Swarthe put together the climactic scene for Close Encounters — when Richard Dreyfuss and others enter the spaceship as representatives of humanity. Now, Swarthe's calling us out for assuming Dreyfuss's Roy Neary was a Jew.
"I don't believe it's inferred at all," Swarthe told us. "In fact, late in the film, as the red-suited volunteers are marching along with Dreyfuss towards the mothership, there's a Irish-Catholic-like Christian minister intoning some prayer. I could have done without that little touch. I would have preferred no religious references made at all . . . Maybe it was a remnant from Paul Schrader's early involvement with the script."
Though Swarthe's insider perspective is interesting, we're keeping the scene firmly in place as Greatest Jewish Movie Moment #28. Even if the text didn't spell his character out as a member of the tribe, casting Dreyfuss — short, cerebral and as Jewy as them come — as a leading man in 1977 was still a choice, and making him an official ambassador to the space creatures was another. And audiences noticed both.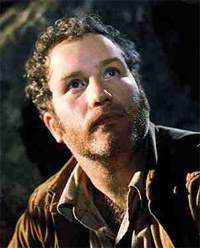 Even without a square jaw or blond hair, Roy Neary boldly represents the human race in Close Encounters of the Third Kind.
Related Posts:
Ben Shenkman Remembers Jewish Movie Moment #71: Pi
Eli Roth on Jewish Movie Moment #15: Inglorious Basterds
"Chunk" Remembers Jewish Movie Moment #42: The Goonies
100 Greatest Jewish Movie Moments
What do you think?