I'm sure by now you've hit a holiday party with all sorts of starchy casserole goodness, but don't forget about the Jewish version of hash browns better known as latkes. After all, they're the only good thing about Hannukah ('cause I damn sure don't get presents anymore).
Myself, I'm sick of the predictable toppings that come with the latke, e.g., sour cream and applesauce. So below are three heart attacks recipes that my friends and I put together last week. Enjoy.
INGREDIENTS:
1 lb Potatoes, peeled and grated
1/2 Onion, grated
1 Egg
3/4 cup Flour
Salt and pepper
Dry potato and onion mixture of excess moisture with a hand towel. Mix remaining ingredients.
Heat canola oil in a cast iron skillet. Drop a large tablespoon of mixture in oil. Turn after a few minutes. When both sides are golden brown, place on a cookie sheet lined with paper towel. If not serving immediately, reheat in a 350-degree oven. For each latke variation, use one-third of this mixture. (Fry up 1/3 of the latkes now for the Mexican variety and save 2/3 for the additional spices needed for the Indian and Korean varieties.)
MEXICAN LATKES
Ingredients:
1/3 latke mixture
1/2 lb Shredded chicken
Salsa
Cheddar cheese
Serrano peppers
Top latkes with shredded chicken, salsa, cheddar cheese and sliced serrano peppers. Pop into oven to melt cheese. (Nosh tip: Cool off the peppers with some sour cream.)
INDIAN LATKES
Ingredients:
Last night's takeout
Coriander
Cumin
Mix 1/2 teaspoon of coriander, 1 tablespoon cumin and 1/3 of the potato mixture. Heat Indian leftovers in a separate pan. (We used sag paneer, mixed veggies and lentils.) Top latkes with leftovers.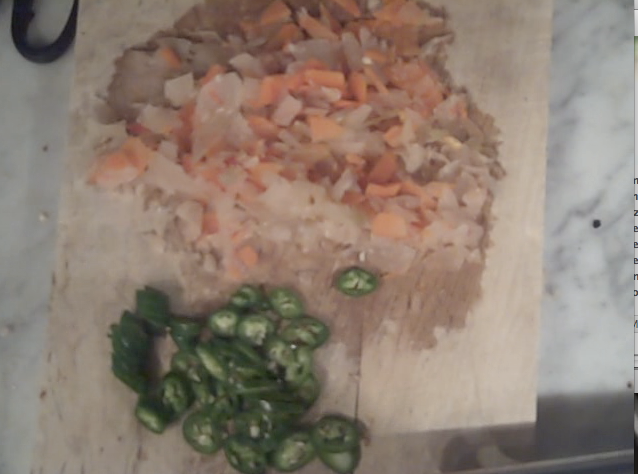 KOREAN LATKES
Ingredients:
Kimchi
Sambal
Chop up 3/4 cup of kimchi and remainder of serrano peppers. Mix with remaining 1/3 of the potato mixture. Top with kimchi and equal parts sour cream and sambal.
Related Posts:
What do you think?