Considering much of the country turned into planet Hoth last week, there's really no reason to wait until Passover for something hearty and kreplach-y. Follow these instructions for a homemade soup that'll warm your heart (without fattening your ass) during this brutal weather.
INGREDIENTS (serves four):
1/2 lb. Ground turkey
1/4 cup Grated pecorino romano
3 tbsp. Chopped dill
1 Egg
Salt and Pepper
12 Wonton wrappers
2 qts. Chicken broth
DIRECTIONS:
Combine turkey, cheese, 2 tablespoons of dill, egg, salt and pepper. Arrange wonton wrappers on cookie sheet. Place one teaspoon of meat mixture at the center of each wrapper. Wet one corner of the wonton, fold in half and pinch edges to hold corners together.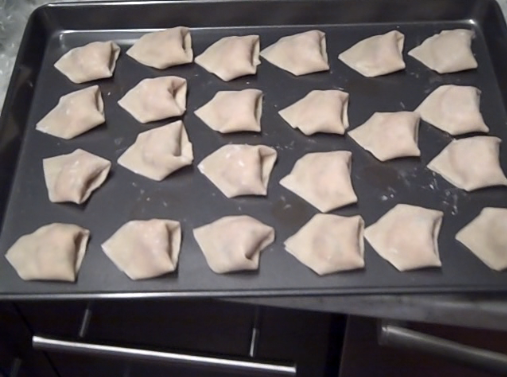 Cover wontons with wet paper towel until ready to cook. In a large pot, bring chicken stock to a medium boil and drop in dumplings. Boil until dumplings float to the top. Serve with soup and three dumplings in each bowl. Garnish with remainder of the fresh dill.
NOSH TIP:
Freeze leftover dumplings. (They'll stay good for about one year.) For an easy snack, fry them in 350-degree oil or bake at 350 degrees until golden brown. Serve with a dipping sauce mixture of equal parts mayonnaise and sambal oelek.
Related Posts:
Pickle Wants Bigger Facebook Following Than Nickelback
The Germany Issue: The Final Solution German Chocolate Cake
What do you think?