Her soccer mom friends call her Michelle, but, to millions of practicing perverts across The States, she's known as the JMILF married to Jim McBride, a man responsible for the website reporting on nudity in the movies, www.mrskin.com. Unlike hubby who can randomly spout off hilarious/demented masturbation jive to describe the female anatomy, Michelle McBride (ne Meklir) is a well-adjusted human being. The Chicagoan took time away from fundraising for cancer research (yes, breast cancer), running the Skin mansion and watching over her three kiddos to talk to Heeb.
Did you grow up a super Jew?
I did not grow up hardcore. We went to a reform temple in Michigan. I went to Hebrew school and Sunday school until my bat mitzvah, and then I was done with my formal Jewish education. I still celebrate all of the holidays with my family. In fact, the Skins have about 40 people over every year for break-the-fast.
Did it have any effect on your family when, in 2003, you married the Internet's most notorious spank material historian? Or was it just as shocking to them that he was goy?
Wow, that is the first time I have seen him referred to that way, and I have seen a lot! The two issues are separate and distinct. First, no, my family was not opposed to me marrying outside of the faith. And, no, they do not have a problem with what he does for a living. In fact, when we were married, the youngest of my three brothers was working for him. Believe me when I tell you, the toasts were fun!
Mr and Mrs Skin with some rabbi dude.
What's it like keeping a nice family and a roof with money from practicing pervs everywhere dumping $30 a month into that amazing online cash machine?
We have three kids now. Two girls and a boy ages 4 1/2, 3 and 17 months. Our family life is very normal. My kids know that their dad is Mr. Skin but they have no idea what it means. I'd hate to burst everyone's bubble, but, beneath it all, Mr. Skin is an incredible husband and father. He is a very down to earth guy who loves baseball and American history. People relate to him and like him despite of (or in addition to) the Skin shtick.
But there must be some conflicts with 24/7 boobage, no?
The biggest difficulty is trying to keep three children quiet in the morning when their father is in the downstairs office doing a radio interview.
Has Jim asked you to review any movies for him?
He has never asked me to review any movies for him, but his 70-year old mother is a "skintern" and once called to ask Jim if a scene in a movie counted as a nip-slip.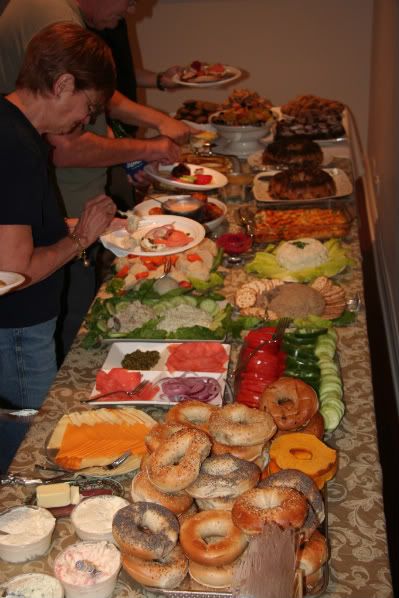 Skintern also enjoys bagels and lox.
OK, well, if you had to pick three movies to review (and report on nudity), what titles would you choose?
I would pick ones where I know there are good nude scenes like Gia, Showgirls and The Wrestler.
Outside of the skinema, what movies you are absolutely ape-shit for, regardless of nudity/sexual content?
I loved Milk, Slumdog Millionaire, and movies like Shawshank Redemption, GoodFellas and The Usual Suspects.
Have you ever walked in on anyone at the MrSkin offices working ahem, hard, or are you not really in there often?
Oy, no one works that hard! However, they do take their jobs seriously. It is a real business with about 30 employees. The web guys do their thing, the business guys do their thing, and I guess the content guys have most of the fun. Jim's office is only a few blocks from our house so sometimes I'll stop by at the end of the day with the kids and pick their dad up for an early dinner.
Mrs. Skin at shul.
Did you mess around with Jew boys or goy or both growing up?
I have dated my fair share of Jewish and non-Jewish men. I grew up in Bloomfield Hills, Michigan, and moved to Chicago when I began law school in 1997. I have lived in the city ever since.
Do peeps around town know you as Mrs. Skin?
I wouldn't say that people know me as Mrs. Skin, but it is a nickname used on occasion.
One last question about the hubby: When he goes into those pervy tirades on the air where he alliterates in absurd ways to describe body parts (e.g. "pink-nosed puppies"), does that happen at home? If so, do you wince, or do you embrace it (and count the money)?
Want to know something funny? He does do that at home. Half the time I roll my eyes, but some of them make me laugh. When I went into labor with my first child, he was working the top ten lists for his book, Mr. Skin's Skincyclopedia, and I was helping him come up with catch phrases. One in particular that I remember was, "Top ten nude scenes with food," and I came up with the tagline, "Bon Ape-tit". Cheesy, I know, but, like you said, it pays the bills.
What do you think?