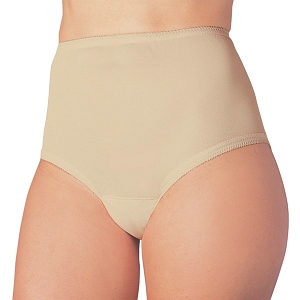 The world is a scary place, filled with snares and pitfalls. But then one day, if you're lucky, a group bands together to make it just a little safer. For you. For me. For the ladies.
Failed Messiah reports that in Betar Illit (a religious enclave south of Jerusalem), new measures have been instituted to standardize solutions to a problem – The problem of women's overly colorful underwear.
A haredi all-female modesty squad sent letters to all clothing stores in Beitar Illit that warns store owners that they must adhere to the following rules modesty rules pertaining to – lingerie.

[…]

The following rules are the bare minimum which one must adhere to:

1) All saleswomen must be dressed modestly (no uncovered parts, tight or short clothing etc.)

2) Items displayed without packaging must be stored in drawers or shut closets, where the doorknob twists like wings (not sliding doors). Items which are kept behind closed curtains, may only be of the traditional sort.

3) The intention of the previous sentence, is in reference to Item e' (ayin) and item t' (taf) – (female lingerie)

4) One must not sell these items in all types of colors and/or bold and brash styles. Therefore, there should not be items in stock (or drawers) in the color red, bright pink, orange etc. Or with words or pictures.

5) It is strictly forbidden under any circumstance for a saleswomen to suggest, advise or to guide women – and especially brides – to purchase such items which are not in traditional colors: white, beige or black.

6) It is strictly prohibited for men or children to enter the store

7) If immodest images appear on the packaging, they must be covered up with tape.

8) Advertisement must be modest in style and design.

9) From time to time, women will be sent to track and monitor that all these rules are kept strictly kept, and not in a perverse manner.
At first glance, it seems like we are on the right track. But on a more careful reading, it is clear that the Evil Inclination itself must be monitoring these so-called modesty squads. What else can explain the unseemly allowance for…beige? A true Daughter of Israel will wear white or black underwear only. And yet this modesty squad is overtly SANCTIONING dressing like a harlot.
What do you think?