Not many kosher chefs cook crab legs or elaborate lobster-themed menus for Friday night dinners, but then Katsuji Tanabe is no typical kosher chef. The Japanese-Mexican chef is the force behind Mexikosher, his strictly kosher Mexican restaurant in Los Angeles, and the recent winner of the Food Network's prime-time show, Chopped.
Tanabe took the prize of $10,000 last week after battling three other chefs in the "Walk on the Whelk Side" episode. Tanabe celebrated his victory with Mexican-inspired sushi and tequila tasting at a viewing party thrown in his honor at the Mexican Consulate in Los Angeles last week. He's the only kosher chef that has emerged victorious from Chopped — likely the first Japanese-Mexican to win a televised cooking competition with kosher cuisine in the history of Western Civilization, and he's definitely the first to spend their victory lap chatting with Heeb.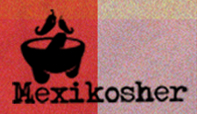 Born and raised in Mexico City, Tanabe, age 32, came to Southern California as a teenager and after following his dream to the Cordon Bleu cooking school, he became a chef at several well-known restaurants in Los Angeles before being wooed to helm the kosher steakhouse Shiloh's, outside Beverly Hills. After nearly a decade of learning the intricacies of kosher cooking—he was raised Catholic—Tanabe blazed a trail of his own with a kosher kitchen tuned to the food of his heritage: Mexican soul food.
Ultimately, it was Tanabe's deep knowledge of Mexican cuisine coupled with his quick thinking—a whelk snail ceviche appetizer in particular—that landed him the $10,000 prize on Chopped. One of the judge's, Mexican chef Aarón Sánchez, even told Tanabe that his "instant mole" made him proud of Mexican cuisine.
Tanabe's latest challenge is perfecting the pareve cronut. So far his kosher donut-croissant hybrids have earned him top prize and a loyal following: he sells out every time he features them on the menu—often with customers purchasing them over the phone in advance. Clearly Tanabe knows how to compete in a tough market, too.
In fact, besides his training and knowledge of Mexican cooking, Tanabe actually credits the restrictions kosher cuisine places on chefs to nurturing his skills and creativity in particular. How that plays out at his home come Friday night (his one night off), we will never know.
****
For more on Chef Tanabe and MexiKosher, visit www.mexikosher.com
What do you think?