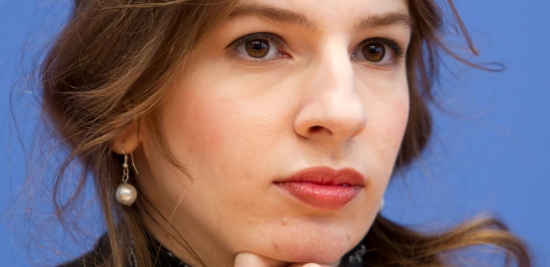 The new political star of Germany is Jewish which hasn't happened since…ever. We – Jews in Germany – are full of hope, for Marina Weisband has arrived. She will, even if she is only 24 and head of a disastrously incompetent party, bring some brighter days for all of us.
That's what the opening line to this text would have been four weeks ago. But it was not meant to be. Marina Weisband just resigned, citing fatigue and her upcoming diploma in Psychology as the reasons. And we are all crying bloody tears.

She was one of the leaders of the Pirate Party, an offshoot of a new political organization that popped up all over Europe in the last few years. The name is reminiscent of famed download site "The Pirate Bay" for a reason: The Pirates, as they call themselves, are basically interested in Internet rights ("copyright reformation") and not much else.
Even if they have no real economic or foreign policy plans, they are a small success, with polls predicting they could enter Parliament. In Berlin, they are already in the Senate. One of delegates there only wears overalls and a keffiyeh headscarf, another one was honestly surprised when he heard that Jews might have a different perspective on antisemitism. There is a line between charming unconventionality and blind unprofessionalism, and the Pirate Party frequently crosses it.


All of which would be totally irrelevant if the face of the party hadn't turned out to be Marina Weisband, who joined early on and rose to the top. She is a Jewish woman amongst men who seem to have massive problems with both of those things. "Feminism" is considered a taboo concept. Every Pirate is equal; discussing gender would actually be sexist.
The Jew-thing is even more complicated. Two years ago, a Holocaust denier was still a leading member of the party. And since, for many Germans, Jewishness is a religion and nothing else, Marina Weisband, who goes to shul every Friday, is the enemy. Seemingly every day, she's confronted with questions like "You're a Jew? Isn't that some sort of Nazi-thing?" by Twitterers who proudly identify as Pirates.
But we never questioned Marina (we get to call her that) for her staying with the Pirates. If anything, it made us like her more: A tragic Jewish heroine, trapped in a goyishe organization. She just seemed like, given the opportunity, she would and could get shit done, starting with some of her party colleagues.

I don't think there's a Jewish politician that inspires the same kind of adulation in the US. Maybe pre-scandal Anthony Weiner, when he was that guy who was friends with Jon Stewart and an awesome yeller. But adoration for Weisband was different. Had she been in office some months longer, I have no doubt there would have been shirts with her face, Shepard Fairey-style. Alas.
When news broke that Marina had received antisemitic hate mail and was going to resign, everybody suddenly realized that there really is no hope. Even if she says that those two events are unconnected: Here is a smart and proud Jewish woman who was too good for this world.
Wait, it's not like she's dead. She says she's gonna return – this time, hopefully not surrounded by latently antisemitic sexist bumbling idiots. During a talk show, a former governor casually said to her, "And in 30 years, when you're Chancellor…" – everybody laughed, Weisband included – "no, I'm serious! You're gonna be Chancellor!" Who knows. We'll see in 30 years.
Till then, of course, Germany can go fuck itself.
What do you think?