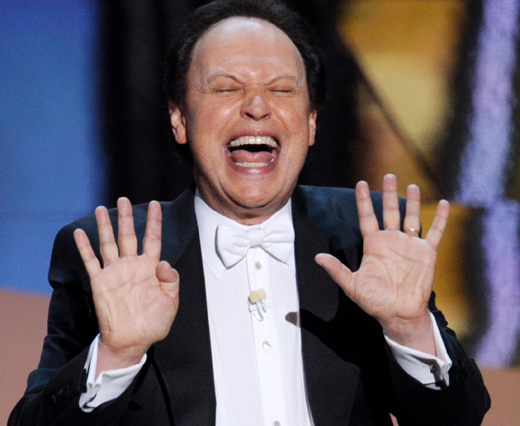 With the exception of Purim, nobody really associates "Persia" with "party," so we shouldn't be too terribly surprised that Iran had to rain on the love parade that is the Oscars by proclaiming it a triumph over Israel since it beat Footnote, Israel's entry into the Best Incomprehensible Film Category (oops, Jewdar's factchecker has just informed us that's "Best Foreign Language Film).
At the same time that Iran is crowing, many are carping that the Oscar's choice of Billy Crystal to host reflects how outdated it has become.
In typical Jewdar fashion, we shall connect these two seemingly unrelated stories into a heartwarming narrative celebrating the triumph of the Jewish people.
Okay, so maybe Iran's entry did trump Israel's. But as the presence of Crystal illustrates, the Oscars isn't just about individual awards, it's about the film industry as a whole, and as far as that goes, what could be more fitting than having an old Jew host the awards, since it's primarily old Jews who make the decisions, sign the checks, and ultimately produce, write and direct the films that make the whole thing possible? Even many of the hip youngish talent whom some people believe could re-energize the Oscars will one day be old Hollywood Jews themselves (we're looking at you, former Heeb coverboy Jonah Hill) So let the Iranians have their Oscar–we'll take everything else (and that includes, of course, Oscars picked up by NJB Michel Hazanavicious' The Artist for Best Picture, Best Director, and Best Actor.
Oh, one more thing, in the spirit of generosity embodied by the awards–mazel tov to the Iranian filmmakers on their award. Would you guys mind doing a photo shoot with it alongside some of Iran's most prominent nuclear scientists?
What do you think?