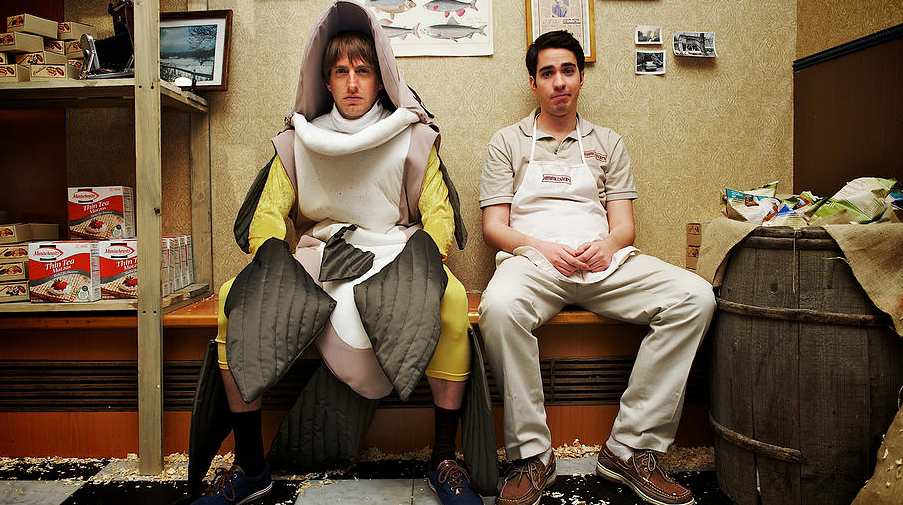 Hey, wanna go to a movie?
Heeb is co-hosting a special screening of Putzel at the JCC in Manhattan on Feb. 26th, and we want you to come! There'll be free wine to help get you in the cinematic mood, plus a Q&A with the film's star Susie Essman, whom you might recognize from a little show called Curb Your Enthusiasm
"But what" you might be asking "… is Putzel?"
It's…
The story of Walter Himmelstein, a young man, endearingly known as Putzel, whose life literally doesn't go beyond his family's fish store and his community on the upper west side of Manhattan. In this heartwarming comedy, Walter's aspirations of taking over his uncle's smoked fish emporium are disrupted by the arrival of Sally, who becomes romantically involved with his about-to-retire and very-married uncle. While Walter tries to thwart their romance in order to insure his taking over the business, he finds his circumscribed life thrown off kilter, and, after years of being undermined by his family and friends, he finally starts to realize his full potential. With Sally's help, Walter confronts his fears and proves he is more than a Putzel.​
Here're the details:
What: Screening of Putzel, co-presented by Heeb Magazine and the JCC in Manhattan
Where: The JCC in Manhattan (334 Amsterdam Ave. NY)
When: Feb. 26th 7:30-9:30 PM
Why: Post-film Q&A with Curb Your Enthusiasm's Susie Essman, plus free wine!
How Much: Tickets are $9 for JCC members, $11 for non-members.
We'll see ya there!
What do you think?