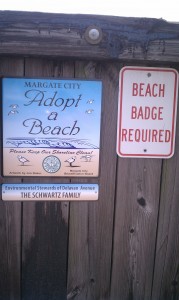 The Jersey Shore is no stranger to the Jew. Despite the sun's blazing heat, the resulting schvitz, and sand's nature to show up in every crevice, Semites love the beach. Why is this the case? Sand reminds us of the desert; it makes us think about slavery, freedom, and the gaudiness of the golden calf. Those less than golden Yids are attracted to that other side of the sand and surf in New Jersey. HBO's Boardwalk Empire reintroduced us to famous tribesman like Meyer Lansky, Arnold Rothstein, and Bugsy Siegel. They mastered the arts of corruption and deceit in Atlantic City during the days of Prohibition; a time when bootlegging meant something different and America tried very hard to pretend it wasn't such a lush. This particular brand of Jew represents a unique hybrid of trash and class – think Staten Island sensibility, Jersey attitude, and cosmopolitan taste, mixed with a lot of nasal chatter.
Wherever land is profitable and desirable, there will always be Yids behaving badly. In 2009 a group of Syrian Rabbis from Deal were caught with their pants down. They paid off politicians for building permits and laundered money to Switzerland. Wonder where all those back alley deals were consummated? Atlantic City—the Northeast's capitol of all things garish and debauch. AC is just as vicious now as it was in Bugsy's day. Nothing's really changed, the principles are the same. There's a whole lot of booze, sun, fun, and sin.
A short 3 miles south of the chintz and fluke of AC, is Margate City, a peaceful, tribal community along the sea. Margate is famous for Marven Gardens of Monopoly Board fame and Lucy the Elephant. Jews from suburbs around Philadelphia and New York flock to Margate for the summer. It's like Westhampton Beach, only along the Jersey Shore. You've got your cheap nail salons, kosher-style delis, Starbucks, gourmet grocers, liquor stores, and boutique surf shops (offering designer shades and swimwear) a mere 2 blocks from the beach! The opulent homes are packed tightly on top of another; they compete in height for views of the ocean which increase property value.
The Jewish Jersey Shore is a big, summer-long, pissing contest. It's all about showing off your alma mater, imported car, full-bred Jewish grandkids, and proximity to the beach. "Where's your house? Are you beach block? Do you summer in a condo or home? Oh, you rent. You say you're by the bay? You must have a boat! Have you tried the Clam Bar in Somers Point yet?"
Margate is nestled between two towns. To the north and closest to the razzle-dazzle of AC is Ventnor, which is less desirable for your shore house. Hookers and blow are fun and all (or so I hear), but make for unsightly neighbors. Longport's houses are the biggest, with its inhabitant's eyes most sunken and thus, completely unfamiliar to you (read: NOT Jewish).
To reach Margate you drive your Land Rover over a private bridge, which costs $1.50 each way. The Margate Bridge is very profitable, and possibly owned by a very smart, entrepreneurial Jew. It exists so that you may avoid the eyesores along the free causeway into East Atlantic City, which is riddled with gas stations, strip joints, and cheap motels offering hourly rates up to $29 a night (Sun-Wed only). A favorite is the Hi Ho Motel, for obvious reasons. As you drive off the Margate Bridge to make you feel at home, you find on your right Temple Beth El and on your left the Jewish Family Service of Atlantic and Cape May Counties. Next door is the Milton & Betty Katz Jewish Community Center.
A day on the beach during a holiday weekend isn't peaceful at all. Gorilla chests don flashy gold Mogen Dovids. Jewish princesses sport pin straight hair, wear Juicy Couture swimsuits, and carry Louis Vuitton beach bags. Everyone sprays tanning oil instead of slathering SPF onto pasty Ashkenazi skin. Young and old troll the sand looking for a party and stop to chat with familiar faces. You shoot the shit, catch up, and show off. The beach is beautiful though, and clean too, with a surplus of young, nubile lifeguards. Margate residents pay their taxes to finance exclusive beach luxe.
Truth be told, one feels at home in Margate, which means embracing the foreign, yet predictable Snookie within. Sure the town is riddled with stereotypes, but at least one knows what to expect when going to the beach. There's something oddly compelling about a tanned nebbish guy with slick greased hair, in a patterned silk shirt and white swim shorts.
If you're a lapsed Jew with a penchant for risqué fun and sun, visit AC to get toasted and mingle with others, just as misbehaved as you. Play black jack, fist pump in the clubs. Maybe you'll find a mate who's DTF? In all likelihood you'll probably recognize them from summer camp or college.
What do you think?