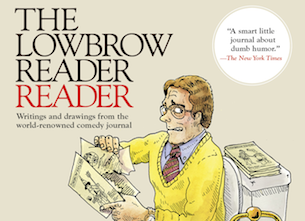 Initially we were considering making Jay Ruttenberg's Lowbrow Reader Reader a Chosen Book, which would then mean we would have to write a review of the damn thing. But then over the weekend, we saw that Entertainment Weekly appropriately picked the best of- compilation of Ruttenberg's zine for it's Must List feature, and really, does one need an endorsement from anywhere else? I mean, once the weekly publication takes some time out of its regular Twilight and/or 50 Shades of Grey coverage to praise a book so thick with New York Jewish humor it should be subtitled Woody Allen's Biography, we figured why waste our time telling you that this book is genius in its analysis of all things non-genius. So instead, we harassed Ruttenberg, a one-time Heeb contributor and former Time Out New York journalist, to give us some insight into what its like to celebrate an acclaimed publication that, for over a decade, has featured someone sitting on the toilet for every cover.
How did the Lowbrow Reader first initially begin?
In the fall of 2000, a few unrelated events occurred: I moved to New York; the magazine I had been working for closed; the Lowbrow Reader's long-suffering designer, Matthew Berube, stopped publishing his literary journal; Little Nicky was released to theaters; and an asshole from Texas stole the United States presidency. Somehow, these factors came together in creating the Lowbrow Reader.
You launched your zine right before September 11th, 2001. Did this tragic day somewhat change your perception of lowbrow in between the first and second issue?
There was a lot of talk at the time about humor dying on September 11th when, in actuality, it had expired a few weeks prior, upon publication of Lowbrow Reader #1.
Some of your writers seem like unlikely contributors: for example, how did you get in touch with Shelley Berman, Larry David's dad on Curb Your Enthusiasm?
I simply e-mailed Mr. Berman—I am a huge fan of his old comedy albums, his work in Curb and You Don't Mess with the Zohan, and his poetry, which is featured in the book. The Lowbrow Reader contributors are basically the Usual Gang of Menschen. Some are family, some are friends, some are strangers who got to be friends over the years. Three of our absurdly talented illustrators—Mike Reddy, Jackie Gendel, and cover artist John Mathias—were even in a band together. The Strokes.
The Lowbrow Reader Reader plays out like the zine's greatest hits. How did you determine what made it into the book?
Crowd-sourcing.
You seems particularly drawn to old school comedians like Joan Rivers and Don Rickles. Do you have any contemporary comedians that you find worth noting?
I love tons of contemporary comedians, but my tastes are fairly pedestrian. I am not sure The Lowbrow Reader has much to add to the national conversation on Chris Rock or Sarah Silverman. Word is that we are currently in a "golden age" of comedy. That may be so, but I have to say: no matter how lousy culture is at large, comedy tends to hold up. For instance, 1980 was a pretty rotten year for music, but a pretty funny one for Richard Pryor.
Have you seen the new Three Stooges movie?
What an idiotic idea. The fact that this movie was made at all says a lot about the greatness of the Farrelly Brothers – even their mediocre films have amazing things within. Unfortunately, I am having a difficult time persuading the female half of my household to see this movie: the age-old Stooges dilemma.
Why do you come out with issues so infrequently?
We are embarrassingly slow. Despite the fact that much of the content is drawn from the issues, this book took a full year of work. I bet we worked on it even more than Jimmy Fallon worked on Thank You Notes 2, so it's nice that we are on track to out-sell the poor guy. Of course, both books are labors of love.
Is the zine dying? And if so, is there anything we can do to perpetuate the spirit online?
Oh, please. What kind of fakakta magazine closes to become a website?
Zing, indeed. You interviewed Joan Rivers for us a few years back. Are there any other entertainers you'd love to interview before they die because knowing you they're probably all really old?
Years ago, I was scheduled to interview Rodney Dangerfield, but he got sick and it never happened. I have always regretted that. The people I long to interview now are not that old. I would really love to play tennis with Jon Lovitz. And I would kill to eat brunch with Harold Ramis in the suburb where I grew up and I believe he now resides — either at Country Kitchen or Once Upon a Bagel. (His choice.)
Drag City Books has published a zine compilation by Harmony Korine, an unconventional memoir by John Fahey, and a book on politics by Ian Svenonius. That all sounds rather highbrow to me, doesn't it?
I am a big fan of the highbrow, which often has a lot in common with the ostensibly lowbrow. Harmony Korine's work presents a perfect example of the two coming together. Is he a Jew? I can never tell.
Were there ever any submissions even too lowbrow for consideration?
Regretfully, the Diceman has yet to get in touch.
Can you give us an example of what would be too lowbrow?
Regretfully, the Diceman has yet to get in touch.
What's Lee Hazlewood like? Sexy?
I wish I could tell you; alas, I never met him. I interviewed Hazlewood over the phone and found him to be incredibly cool and funny. But his Lowbrow Reader contribution came about later, entirely through an exchange of snail-mail letters. I am a fan of his music, but reached out to him in part on the basis of his memoir, The Pope's Daughter, which came out, inexplicably, via a self-publishing service. When I take over Random House, I plan to republish the book with photos, lyrics, and script excerpts.
You're hosting a Lowbrow Reader Reader variety show featuring Adam Green and Wyatt Cenac (tonight May 29th. Details here). How do you know these people?
I actually do not know Wyatt, but have been admiring his work for many years. Adam, I met in 2001, when I interviewed the Moldy Peaches for an article about local bands "on the rise." He must have been, like, 18. Supercute, which is also on the bill, features Rachel Trachtenburg, who I have known since she was 7 or 8. And I met the night's other star, Professor Irwin Corey, earlier this year, when he was 97. I know Irwin through my friend Brian Abrams, who knows him through Heeb. See? It all comes back to Heeb.
I imagine the zine to have a very New York sensibility, but I wonder if people outside of New York are reading as well? Any stories about a Lowbrow Reader fan in Omaha?
I have always sought to distribute it far and wide. Whenever I go to a foreign city, I bring some Lowbrow Readers and try to convince a cool-looking store to carry it. The knowledge that someone in Singapore has a Lowbrow Reader tucked safely behind their toilet allows me to sleep peacefully at night.
The interview with Mo'Nique about sex was apparently a piece that was initially rejected by Glamour for being too dirty. Any other second hand pieces in the zine?
Yes, Gilbert Rogin's short story, "My Masterpieces." It was originally written for The New Yorker, I believe in the late '70s. At the time, Rogin had published some 30 stories in The New Yorker – he had one of the highest acceptance rates during the '60s and '70s. But "My Masterpieces" was mysteriously turned down. This did not sit well with Gil, who abruptly quit fiction (he had just been named the top editor at Sports Illustrated). "My Masterpieces" essentially sat in a drawer until I persuaded him to publish it in Lowbrow Reader #7, and now in The Lowbrow Reader Reader. It is a mind-blowing piece of writing — I'm not just saying that.
The book does not have a review yet on Amazon.com. But what do you imagine your first review will be?
Wait, there's no review? My mother better get on this, pronto.
Who would you cast in the Lowbrow Reader Reader movie?
Alex Karpovsky, J.B. Smoove, and Gene Wilder.
What's Neil Hagerty like?
He is a genuinely swell guy who appears to succeed at everything he tries his hand it – which, come to think of it, is kind of annoying. When I win the MacArthur Grant that I have been lobbying for all these years, I intend to produce a NMH/Royal Trux/Howling Hex tribute record. It will feature the Walkmen (from whom I stole the idea), Sic Alps, Adam Green, Danielson, the Fiery Furnaces, Stephen Malkmus, King Kong, the Miighty Flashlight, Bonnie "Prince" Billy, Home Blitz, and Beck. Of course, my favorite contemporary rock star, Jack White, already released a pair of great Royal Trux tribute albums. For some reason, they were labeled "the Dead Weather."
Who would be on the cover of the Lowbrow Reader swimsuit issue?
Rodney Dangerfield, via his diving scene in Back to School.
Who would be your dream contributor? Use this opportunity to shout out to them in the oft chance they read Heeb?
Larry David, Larry David, Larry David, Larry David. Oh, and Philip Roth. I hear he's good.
The Lowbrow Reader Variety Hour takes place Tuesday, May 29, at the Housing Works Bookstore in Soho, from 7pm–8:30pm. Admission is free with a suggested donation to Housing Works. The night will feature musical sets from Adam Green and Supercute!, comedy from Wyatt Cenac, and a special appearance by the one and only Professor Irwin Corey.
What do you think?