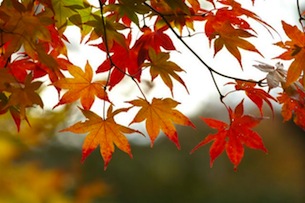 Yes, we're already half-way through the Fall, but here's the thing: everything is on sale now. Which means we could have steered you in the direction of affordably priced timeless fashion a few weeks back, but you would have been paying full price for it. And that would have been tragic.
And so with this installment of Heeb's Fall Fashion Guide for Men, we will do our best to recommend articles of clothing that have shelf life. We wouldn't want you to waste your hard earned money as a 99%er on something you'll regret owning a few months from now. Take it from the guy who owns a pair of these.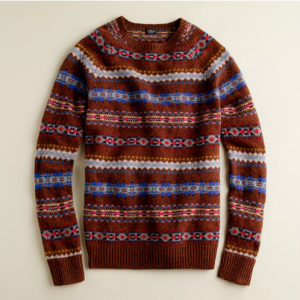 The J. Crew Fine Lambswool Aberdeen Fair Isle Sweater originally retailed for $98.00, and when it was available for full cost it was selling out in stores. This isn't a limited edition top which only shows you how in demand Fair Isle is this season.
I own one in the Heather Cognac, but it's also available in a more traditional navy blue. Right now, it's on sale for $68.60 with free shipping, and I can't imagine it being around for much longer. It's a true quality item with a timeless appeal. When I showed it to my wife's friend, she remarked that it was the perfect amalgamation of "cool and geek." Which I think is a compliment.
The Levi's Workwear by Filson Tin Cloth Trucker Jacket isn't exactly on sale, but Levi's is offering free shipping. Hey, it's something.
The trusted denim manufacturer teamed up with the quintessential outdoor brand based out of Seattle for a whole line released this Fall, but this jacket is the definite stand-out. It's hard to tell the level of quality and craftsmanship from the picture on the left, but I've tried this jacket on in person and it is substantial and formidable. It's the kind of material that feels practically fire-proof. But while I wouldn't exactly wear it into a fire, the oil-brushed cloth does make it water-proof and wind resistent.
Both Levi's and Filson are known for bucking the trends in an effort to create timeless pieces, the kind of stuff you can hand down to your kids one day. And at $216, it's not cheap but it's definitely a fall investment. Besides, you're worth it.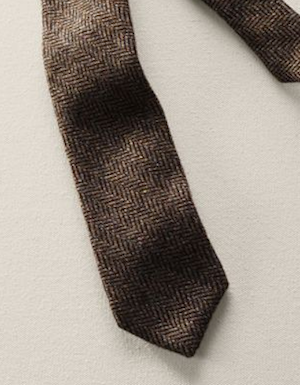 Speaking of classic that never goes out of style, the Land's End Canvas Wool Herringbone Tie is a understated accessory. but it's also truly elegant in said subtlety.
The misconception amongst many Jews is that all suits and all ties are things you can wear year round. This couldn't be further from the truth. Lighter materials for the summer, and heavier material for the winter. Sounds elementary, right? But yet I couldn't tell you how many times I've seen dudes in thick wool suits in the middle of August, and cotton tan suits in December. Somewhere along the way, Yeshiva education left out the part about seasonally appropriate formal clothes.
But the expense of buying multiple suits is costly, so start small with ties. The tie pictured here is a Fall and Winter tie because it is wool. Which means you wear it from November up until March. And then you put it away in your closet. So don't let me catch you wearing it on Shavuos. Land's End is selling the tie for $69.50, but it's offering Free Shipping and if you sign up to it's newsletter, there's a discount there as well.
The Khaki pants is a time tested item. And now that places like the Gap and Dockers are making slimmer fits, there's nothing wrong with owning a couple of pairs. We're way beyond the point in which khakis are perceived as boring and cliche. However, if you're stubbornly refusing to own a pair because your mom will probably like them, or people will think that from the waist down you're conventional, there's these Warriors of Radness Relaxed Fit Pants for Dockers.
WOR is a surfer brand, which means they design for comfort and "dudeness." And when Dockers approached them to reinvent the Khaki, they did some weird ass stuff: Elasticized cuffs, velcro side closures, and double front pleats. It sounds terrible, but they actually look great and the cuffs may reduce the amount of upstream breeze flowing in to your ankles and into your underwear. Which is one inconvenience I'm sure you've never considered before.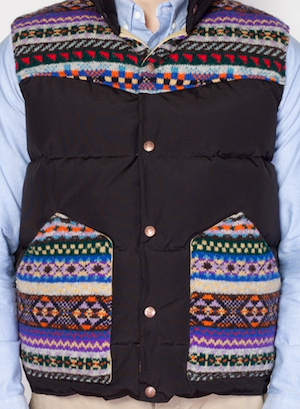 New England company Penfield is always doing something right, year after year. Which is why they were on my Fall Fashion last year, and chances are good they'll  be on the list next year as well. This Jamieson's for Penfield Down Insulated Gillman Vest is very much not on sale but if there's one item worth splurging on, it's this. Super distinctive and super quality, this is the sort of thing that will get you compliments from strangers wherever you go. And chances are they'll ask you where you got it, and you'll answer back "oh, they're all sold out" because you don't want them getting one too. I know you. That's how you roll.
The combination of the Penfield 80/20 Down filling and Jamieson's Shetland wool is as toasty as it gets. I've got a kid now which means I can't afford one, but if you're a single dude with $350 to burn, I'd encourage you to do it. You'll thank me.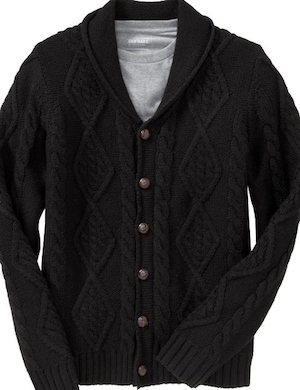 Wait, Old Navy…? Yeah, dude. Old Navy. It's like a needle in a haystack, isn't it? Every once in awhile you'll find something reasonably priced and classic looking from a crappy retail chain. In this instance–the Men's Black Cable Knit Cardigan–-no one will know that it wasn't something you got from J. Crew or some handmade Scottish sweater outlet. It's not 100% wool but then again that stuff itches.
Suck it up, walk into an Old Navy, swat those soccer moms away from the Men's Sweater display and pick one up. And never go back into an Old Navy for as long as you live unless you truly have good reason. Like in this instance.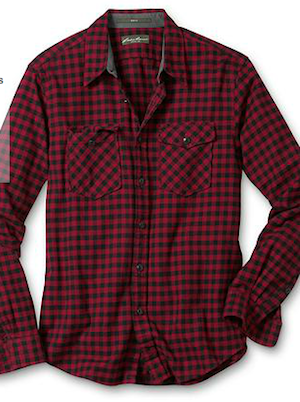 The red and black checkered flannel shirt is a bit expected and if you live in Williamsburg, it's practically part of the uniform, but thing is, it looks good on everyone. Eddie Bauer, in an effort to reach out to the aforementioned hipsters, even made a slim fit version. The Slim Fit Vintage Flannel Shirt is also on sale for $39.99 from the original $59.99. The axe accessory and your tree chopping are not included.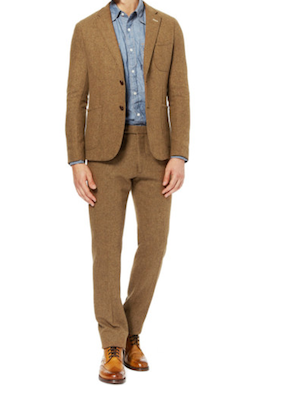 Last year, I raved about the corduroy suit. But this year, I'm very much feeling tweed. The suit pictured on the right–Gant Rugger Herringbone Tweed Suit (below left)–is on sale, selling out and it may be difficult to find, but tweed, specifically Harris Tweed, is everywhere this year. If you're feeling like spending a lot, try Ralph Lauren. If you're feeling cheap, like most of us are these days, try the staples like Zara, H&M, or if you're in New York, Uniqlo. But remember: tweed is a heavy material which means you don't wear it in the spring and summer. But you knew that, right?
What do you think?