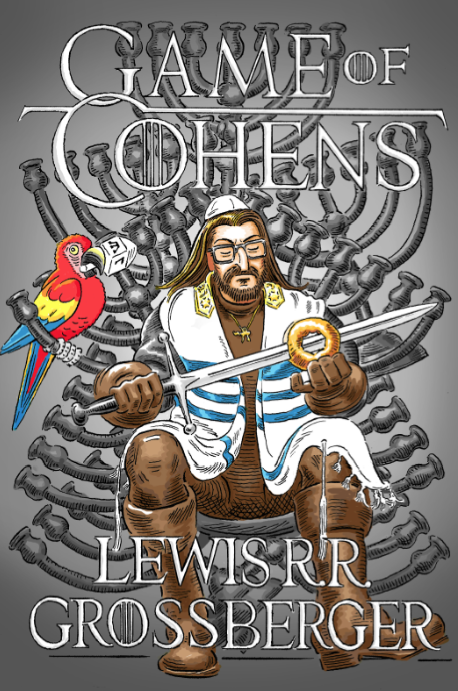 [Editors note: "Game Of Thrones". Love it, hate it, or simply appreciate its abundant nudity and excessive violence, it's hard to avoid it these days. Now, as season 3 of the HBO adaptation winds down, it's safe to say that after the penultimate "Rains of Castamere" episode and it's depiction of the series' infamous "Red Wedding", fans will once again be left feeling emotionally drained and psychologically scarred until season 4 picks up next spring. Thankfully, filling that Westerosi-shaped hole will be a little easier this summer, with the publication of… well, no, not the next installment of George R.R. Martin's epic "Song of Ice and Fire" series, that's still a few years away… Instead, we get author Lewis Grossberger's GoT inspired "Game of Cohens". It is, as you've probably guessed, a particularly Jew-y take on Martin's fantasy world. 
To get the full scoop on "Cohens" and why the hell Game of Thrones was ripe for semitic satire, we went straight to the source – Grossberger himself, who graciously offered himself as interviewer, to make sure we were asking all the right questions.]
*****
Q. Why did you decide to parody Game of Thrones?
A. Game of Thrones is a mammoth, sprawling, epic work with someone's head being chopped off every few pages. As every humorist knows, there's nothing as funny as severed heads, especially if they subsequently roll around on the ground with a surprised look on their faces. When I realized how many beheadings I could describe, I thought, "This thing could really be hilarious."
Q. What about the Jewish theme? Where did that come from?
A. Watching the HBO series, it hit me that there are no Jews in Game of Thrones. This didn't seem right. No walled ghettoes? No inquisition?  No delis? Of course, there are no Christians either, but there are plenty of goyim. What really opened my eyes, though, was when I realized that "Thrones" very nearly rhymes with"Cohens." I knew then I had to write a Game of Thrones parody populated by Jews–or more accurately, almost-Jews.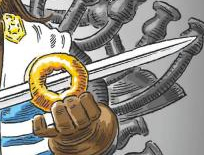 Q. What do you mean,"almost-Jews?"
A. In the mythical realm of Vaisnisht, where Game of Cohens mostly takes place, everyone has a Jewish-sounding name and loves gefilte fish. But at this moment in their tragic history, no Moses or Netanyahu has yet arrived to point out that one really angry deity is all you need. So these people are still polytheistic; they worship the ancient gods such as Einstyne, the god of light, Dyllyn, the god of obscure poetics and nasality, and Zuckerbyrg, the god of social networking.
Q.  Parody is sometimes looked down on as sophomoric. Do you consider it a legitimate literary form?
A. No, it's totally jejune. First of all, let's face it, parody is a form of plagiarism. I mean in Game of Cohens, I'm ripping off George R. R. Martin—stole his plot, his characters, his sex and violence, everything—though for some reason, with parody, this kind of larceny is perfectly legal. Sometimes you really have to love the law. Anyway, I take these dramatic elements and reduce them to an utterly ridiculous and laughable shambles. Sometimes, I wish I could quit, but I'm hooked on parody; it's always made me laugh, and I'll probably do it again. I'm hopeless. Right now, part of me is wondering whether Mad Men would work if set in ancient Babylon.
Q. You have characters here based not only on Game of Thrones but from other books and movies as well. What's the reason for that?
A. Hey, this is an epic, so why stop at parodying one source? Game of Thrones has so many characters no one can remember them all. As a response, I've dragged in characters from Shakespeare, Disney and the Brothers Grimm.  There's Lady Godiva, too, and the legendary outlaw Rubin Hood and his Married Men. And while we're at it, might as well toss in Geoffrey Chaucer. Or the Jewish version, Jeff Chaucersky.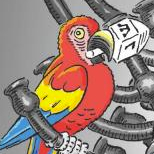 Q. There's a lot of gratuitous sex and violence in the television version of Game of Thrones. How do you parody something that's already close to parody?
A. I find funny, unsatisfying, calamitous sex very easy to write. I just draw on my own sexual experience. As for violence, well, who hasn't laughed uncontrollably at the sight of men being disemboweled by a flaming sword or of the bride's family cutting the throats of all the groom's relatives at a festive wedding?
Q. What about the plot of Game of Cohens—is it as sprawling and hard to follow as the original?
A. Oh, absolutely. I pride myself on that, just as must George R.R. Martin. I can't tell you how many readers have called me up in the middle of the night and demanded, usually without preamble, "Who the hell is this Doggo the Uncircumcised, and why is he engaged to Lord Alvyn Goldfarb of Pynsk, the bastard son of Sir Mandrake Plotnick and Melissandy the anorexic witch?" I really must remember to get an unlisted number.
Q. You shpritz a lot of Yiddish and also some medieval expressions into Game of Cohens, but you also include a glossary. Are you worried that some readers might be put off by the exotic lingo?
A. No, I'm fearless. In fact, I'm thinking of doing a Junot Diaz parody in which every other word is fake Spanish. I feel a need to increase my Latino readership. Do you realize that there are more than 60,000 bookstores in Uruguay alone?
Q. You just made up that statistic, didn't you?
A. Sí.
Q. Is Game of Cohens your first self-published book?
A. Yes. I did it as a paperback with Amazon's CreateSpace publishing platform, and also as an e-book with Kindle Direct Publishing. So I'm now a publisher—as well as a proofreader, a back-cover-copywriter, a marketer and a publicist. Later today, I'll be going around with a wheelbarrow full of copies, selling door-to-door.
Q. What are the chances that Game of Cohens will be made into a movie, TV series or video game?
A. I hope it will happen; I'm already thinking about casting. I want Sacha Baron Cohen to play Nathen Shtarker. Also, I'd like Leonard Cohen to write the score and of course the Coen Brothers should direct.
Q. Publishers like to ask authors, "Who is your intended audience for this book?" Who's yours?
A. Medieval Jews with a love of sword fighting would be the optimal demographic. But after that it's anybody who's a little sad and needs to be cheered up. See, what I'm trying to accomplish here is to bring a ray of sunshine into the lives of all the miserable, depressed, lonely wretches in this broken, tragic world of ours. It's just a fun thing I do in my spare time.
*****
For more from Lewis Grossberger, check out grossblogger.com.
You can find Game of Cohens on both Amazon and BarnesAndNoble.com
What do you think?