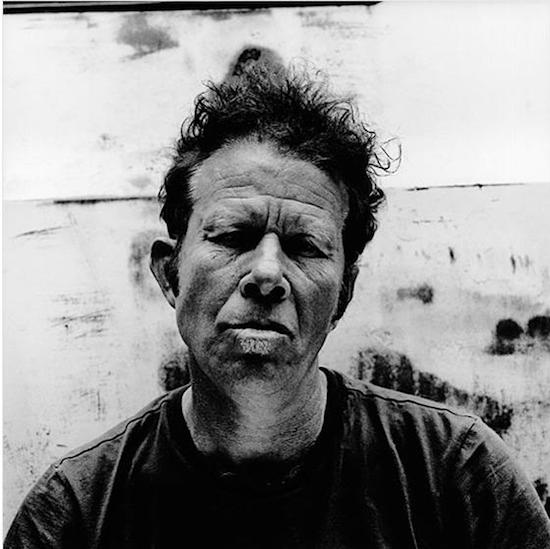 Tom Waits always seemed to me to have more in common with biblical prophets than he did with other musicians. Listening to his gravely yowl, it's not hard to imagine Waits in good company next to the wild haired, wild eyed madmen of the bible, who stumbled out of the desert with evil visions in their heads, declaring to anyone within earshot that, yes, they'd seen god in the wilderness, and boy was he pissed.
That streak of Old Testament fury in Waits' music – especially the later albums – seems less like a phase of "artistic exploration" than it does of someone who has lived his entire life with the taste of sulfur on his tongue, fueled by fire and brimstone in his chest. Perhaps that's why an album of Hebrew Tom Waits covers, recorded in the language of the prophets his songs so vividly call to mind, seems like such a natural fit.
"Shirim Meshumashim" (lit: "Used Songs") producer Guy Hajjaj  spent nearly 4 years working to assemble an impressive ensemble of Israeli musicians to offer their unique interpretations – in Hebrew – of Waits' music. The result is an album that is instantly familiar to Waits fans, and at the same time sounds discomfortingly, fascinatingly, askew.
While very few people can grumble and howl like Waits, the artists on the album do an admirable job trying – aided in no small part by the Hebrew language's naturally guttural quality, which lends itself well to Waits' earthy growl. Not every song lands perfectly, but the twenty-two track album is well worth a listen, if only as a reminder of how motherfucking good Tom Waits really is. Hebrew speakers will enjoy the cross-continental translations of their favorite Waits songs, while non-speakers will appreciate the degree to which Waits-the-songwriter is able to set a mood, regardless of whether or not you understand the lyrics.
Shirim Meshumashim is available to download ("name your price") here.
[h/t Matthue]
What do you think?