Update: Blossom's Mayim Bialik Fears for "Boner" Stabone: Growing Pains Actor Still Missing
41-year-old actor Andrew Koenig, best known as Mike Seaver's wacky best friend on Growing Pains, is missing. His father, actor Walter Koenig, Lieutenant Pavel Andreievich Chekov from the original Star Trek, needs to know if you've seen him.
Here are the details: Koenig was last spotted in Vancouver, British Columbia on Valentine's Day, February 14. He's white, 5'5" tall, 135 lbs. and has long, brown shoulder-length hair and brown eyes.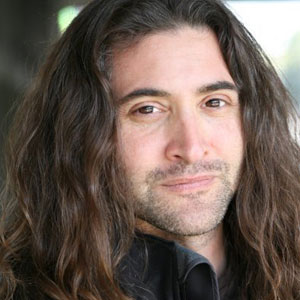 A recent picture of Andrew Koenig, the actor who played "Boner" on Growing Pains.
Unlike his happy-go-lucky character, Richard "Boner" Stabone, Koenig's suffers from depression. His father received a letter on February 16 with a "despondent tone." It is possible Koenig is still in the Vancouver area. He previously lived in Vancouver for several years after filming an episode of 21 Jump Street there.
Now, does it seem like I'm making fun of Andrew Koenig? Isn't posting the information, as his family requested, actually helping? Does it seem obnoxious to refer to him as Richard "Boner" Stabone, even though that is the role he's most famous for and the best way to get people to remember him? Do the 80s references somehow sound belittling? Growing Pains and 21 Jump Street actually were from the 80s. In fact, just about all the information I've posted has been taken directly from his father's website.
And if, while trying to help, there's just the smallest bit of humor — a micron of absurdity at memory of Richard "Boner" Stabone, the Seavers's silly neighbor, juxtaposed with this deadly serious situation — is that so incomprehensible? If seeing his current-day photo makes me think, "I thought you joined the army, Boner. How did you turn into such a troubled hippie?" is that so unforgivable?
And didn't you think the same?
A talented Jewish actor has gone missing and we're posting the information in order, hopefully, to help his family locate him. After all, didn't so many of us enjoy his appearances on the seminal family sitcom that also launched the career of Kirk Cameron? Like the episode when Mike and Boner both liked the same girl?
Luckily, Koenig's fame has created a surge of media coverage, including tweets from celebrities Sarah Silverman, Alyssa Milano and comedian Doug Benson. Cameron, who famously became an evangelical Christian, is reaching out to his former on-screen friend: "Andrew, if you're reading this, please call me."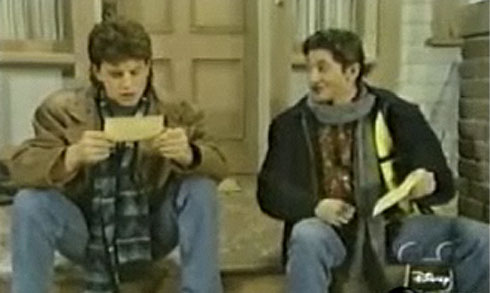 Mike, played by Cameron, and Boner, played by Koenig.
"Mike and Boner could always work things out when they put their minds to it. I'm praying for you, pal. Hope to hear from you soon."
If you've seen Andrew Koenig, who you probably do remember best as Kirk Cameron's friend Boner on Growing Pains, please contact Detective Raymond Payette of the Vancouver Police Department at 604-717-2534.
What do you think?