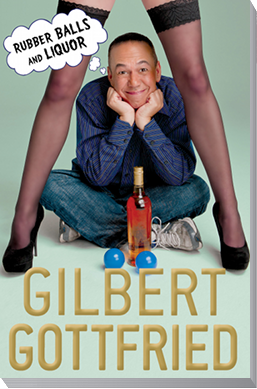 For an embarrassingly long time, we here at Heeb had been trying to lock down an interview with Gilbert Gottfried. The former voice of the Aflac duck and star of such films as Aladdin and Beverly Hills Cop II has always been a favorite of Heeb writers. Once we realized he had a book coming out, Rubber Balls and Liquor, we figured we could coax him into spilling his filthy guts on camera. Schedules conflicted, opportunities fell through, then he opened his big fat mouth on Twitter and all hell broke loose.
Out of a job and back in the public spotlight, Gilbert had every reason not to join us for a little sit down about his dirty book, but we offered to buy him dinner and he obliged. He brought with him a healthy appetite and a veritable barrel of jokes. Gilbert was even open to telling us about how he feels about tweeting jokes after his international incident.
Rubber Balls and Liquor, I should mention, is a riot. The comedy book is a tough beast to tame but Gottfried manages to keep you laughing the whole time. If you were expecting a Gottfried tell-all, then frankly you don't know who the hell you're dealing with. It's jokes, jokes and more jokes, with stories that may or may not be true but always entertain. Now, on to the video interview.
Gilbert Gottfried Eats Sushi with Heeb Magazine from Heeb Magazine on Vimeo.
Big thanks go out to Jon Stuyvesant of Milk Products Media for shooting the piece and Brian Abrams for suggesting we ply Gilbert with sushi.
What do you think?