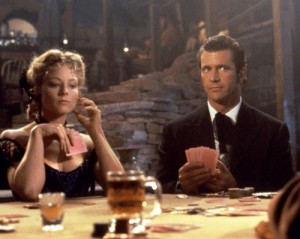 Flashback: it's January 2011 and I'm getting ready to book my ticket to SXSW for a healthy Friday-to-Tuesday excursion when all of a sudden, news hits that Jodie Foster's The Beaver would have its world premiere on the Wednesday of the festival. Elated, I extended my travel plans to catch the too-easy-to-make-fun-of (but we did anyway) film about a man who lives with a puppet on his hand, played by none other than the Jews' favorite actor, Mel Gibson. I wanted to see the film, but moreso, I wanted to catch Mel on the red carpet and spark a conversation. Alas, he was a no show. In fact, he hasn't been doing any press for the film whatsoever, until now.
Deadline landed an exclusive with the Aussie sensation and writer Allison Hope Weiner opens by jabbing at "editors at other media outlets [who] seemed inclined to use this story to pursue their own agendas". That right there explains why Gibson was a no-show; what was he going to say to a goofball proclaiming "I'm from Heeb"? He probably wouldn't have explained the etymology of "kike" as Richard Schiff once did, though if he had I certainly would have used that sound bite to pursue my own hilarious agenda.
Before I get into the meat of what "the Gib" had to say, I'd just like to call out Deadline's editors for not sourcing this line of their intro: "The movie has already garnered reviews praising Gibson's performance as 'the best of his career' and there is talk that Gibson will make an appearance with Foster at the Cannes Film Festival to support the film." Hmm, where have I heard something like that?
It's probably his best performance, and I can't think of another actor who could do what he does in this film.
That was me back at the premiere at SXSW, but what good would a Jewish culture site singing his praises do for his career anyway? Don't worry, I'm not bitter Deadline didn't link to my review, even though they were obviously referencing it.
Since Ms. Weiner's interview is extremely long and reads as though an intern transcribed it without proofing for errors or boring chunks of text, I can give you the highlights so you can get back to your day.
Mel's next film sounds nuts.
GIBSON:…I've already pulled another job and it's going to be fun. I don't know if it's going to get off the ground, but I'm going to go work for [Best Picture Oscar winner Braveheart's screenwriter] Randy Wallace again. He's got this script and he's had it for years. He wrote some book and he's adapted it to a script. And it's almost like Alexander Dumas — like that swashbuckler kind of stuff.

WEINER: Bodice-ripping?

GIBSON: Yes. It's total bodice-ripping swashbuckling stuff, but it's funny. It's funny and yet it's got really good serious undertones too.
Fiscal responsibilities trump anti-semetic troubles; boychik's got his priorities straight.
WEINER: Even when the drunk driving/anti-semitic incident happened and was splashed everywhere, you continued to work. Do you just compartmentalize things so you can keep working when you're at the center of something like this?

GIBSON: You have to. There are a lot of people depending on you. There are deadlines to meet and fiscal responsibilities. There are the basics of supporting yourself and those who depend on you and those commitments that you have to co-workers.
Chicken/Egg conundrum came up only once.
WEINER: Do you remember where you were when the tapes scandal broke? What was your reaction?

GIBSON: I don't remember a bunch. What came first? The chicken or the egg. The Beaver was completed. We'd finished shooting, I think.
I totally forgot about Maverick.
WEINER: When we last spoke after you finished Apocalypto, you said you probably wouldn't act again. And, a four years later, you did the Edge of Darkness. You're in The Beaver now. Did something change?

GIBSON: It was something different and it was also Jodie. I'd give her a pedicure every day of the week if I could. We met on Maverick many years ago. I realized that one has a perception — everyone gets preconceptions. She totally surprised me. I knew she was bright, so that didn't surprise me. She was really bright.
What do you think?