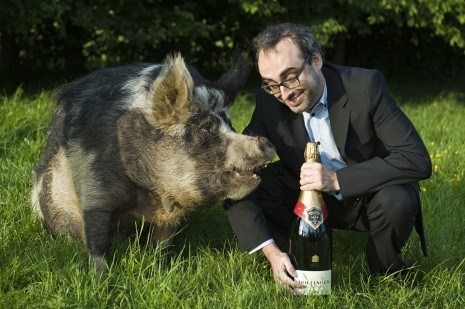 We've known there was something special about Gary Shteyngart since we profiled the author of The Russian Debutant's Handbook (2002) in the Heeb 100 way back in 2005. Since then, Gary has gone on to write two more novels – Absurdistan (2006), and Super Sad True Love Story (2010) –  and has even become an internet-celebrity of sorts after staring in a short book trailer to promote the release of Super Sad, complete with cameos from James Franco, Jay McInerney, and more.
Like most gifted artists, though, Shteyngart's happy-go-lucky attitude (and functional illiteracy) seems to be masking something much darker. At least, so says Felix, Gary's dachshund.  In this letter to the Brooklyn Academy Of Music, written ahead of BAM's scheduled Roast Of Gary Shteyngart, Felix explains that life hasn't always been so good to Gary:
"His hardship started years ago, first as a young Russian émigré tortured at Hebrew School, when he arrived in America speaking no English with a mere two shirts and a bear coat" … "He struggled to make money in his 20s by writing grants for programs like "Torah Tots," attempting to secure foundation money for the important purpose of introducing 3-year-olds to the murders and rapes of the Old Testament. In short I say to you, hasn't Gary suffered enough?"
As anyone who survived Hebrew School and Torah Tots can attest: Yes, he most certainly has.
(h/t @poritsky)
What do you think?