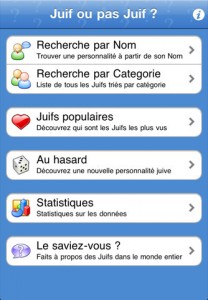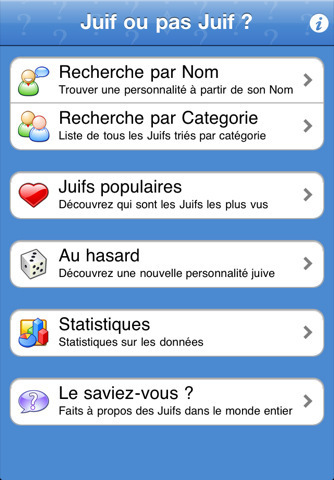 This year has been a scary one for the Jews. But at least now, we can breathe a little easier, thanks to the good people at Apple who removed the "Jew or not Jew" iPhone app from iTunes. They not only successfully dodged a lawsuit but now comply with some morally compelling appeals.
"Who is a Jew" is complex.
"The issue of Judaism and 'who is Jewish' and 'who is not' is particularly complex. Nobody has the authority to decide on the Jewishness of others," Marc Eisenberg, president of Alliance Israelite Universelle, said in written statement.
Wouldn't you just kill to be a fly on the wall of that five-hour Alliance Israelite Universelle meeting as they crafted their formal organizational statement on this national controversy? The issue is not just complex, but particularly complex.
Not enough to convince you? No? Well, you know what that means.
Bring in the Holocaust!
This census of Jews resembles France's time under Vichy," [ Richard Prasquier, president of CRIF] said, referring to the government established during World War II, which collaborated with Nazi occupiers to identify and deport Jews to death camps.
How retarded is this whole thing? Retarded enough that even the ADL isn't buying that it's a problem.
Dear God, French Jewry is too hypersensitive even for the ADL.
The whole business, while slightly odd and "somewhat distasteful" to him, just isn't something the Anti-Defamation League will complain about, said Ken Jacobson, the agency's deputy national director.
What do you think?