(video after the jump)
Diamond District wholesalers Atul Shah and Mahaveer Kankariya have finally been busted for staging the fake robbery in 2008 where thieves dressed as Hasidic Jews — completely ripping off the movie Snatch. In serious debt, owners of Dialite Imports planned it all to cash in on their $9.2 million insurance policy.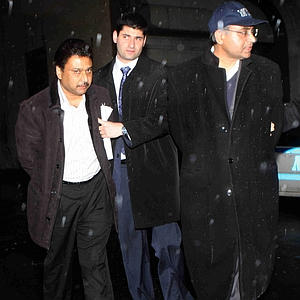 Atul Shah and Mahaveer Kankariya keep it classy with a traditional perp walk.
This crackpot scheme was exposed after surveillance tapes revealed Shah and Kankariya removing all the high-priced ice two hours before the robbery. They're charged with grand larceny, insurance fraud and falsifying business records.
Personally, I'm charging them with a lack of imagination and a piss-poor job of ripping off a movie plot. Though I enjoyed Sugar & Spice, I never once tried dressing up as a cheerleader to rob banks with intricate gymnastic stunts. Also, the story's inspired several painful "Kosher" headlines. Moral of this tale: Leave jewel heists to the professionals and Hollywood. And no one looks good dressed as an Hasid.
What do you think?