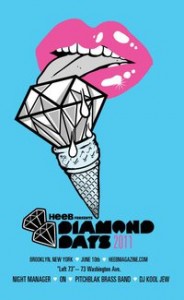 What better way to shake off the horrors of this past winter than to surround yourself with sexy, drunk Brooklynites in a dark, seedy loft? Heeb kicks off this summer with Diamond Days, a night dedicated to new local music and cheap booze.
On, Night Manager and PitchBlak Brass Band will proffer up all your live music needs. And once you're trashed and beer-goggled, DJ Kool Jew will rock the party until the wee hours, aka: the right time for lovin'.  A Shabbas to remember for sure.
What: Diamond Days
When: Friday, June 10th, 8:00 p.m
Where: "Loft 73"– 73 Washington Ave. Brooklyn, NY 11205
Cost: $10 tickets online or $12 at the door
Tickets: RSVP to [email protected]
What do you think?