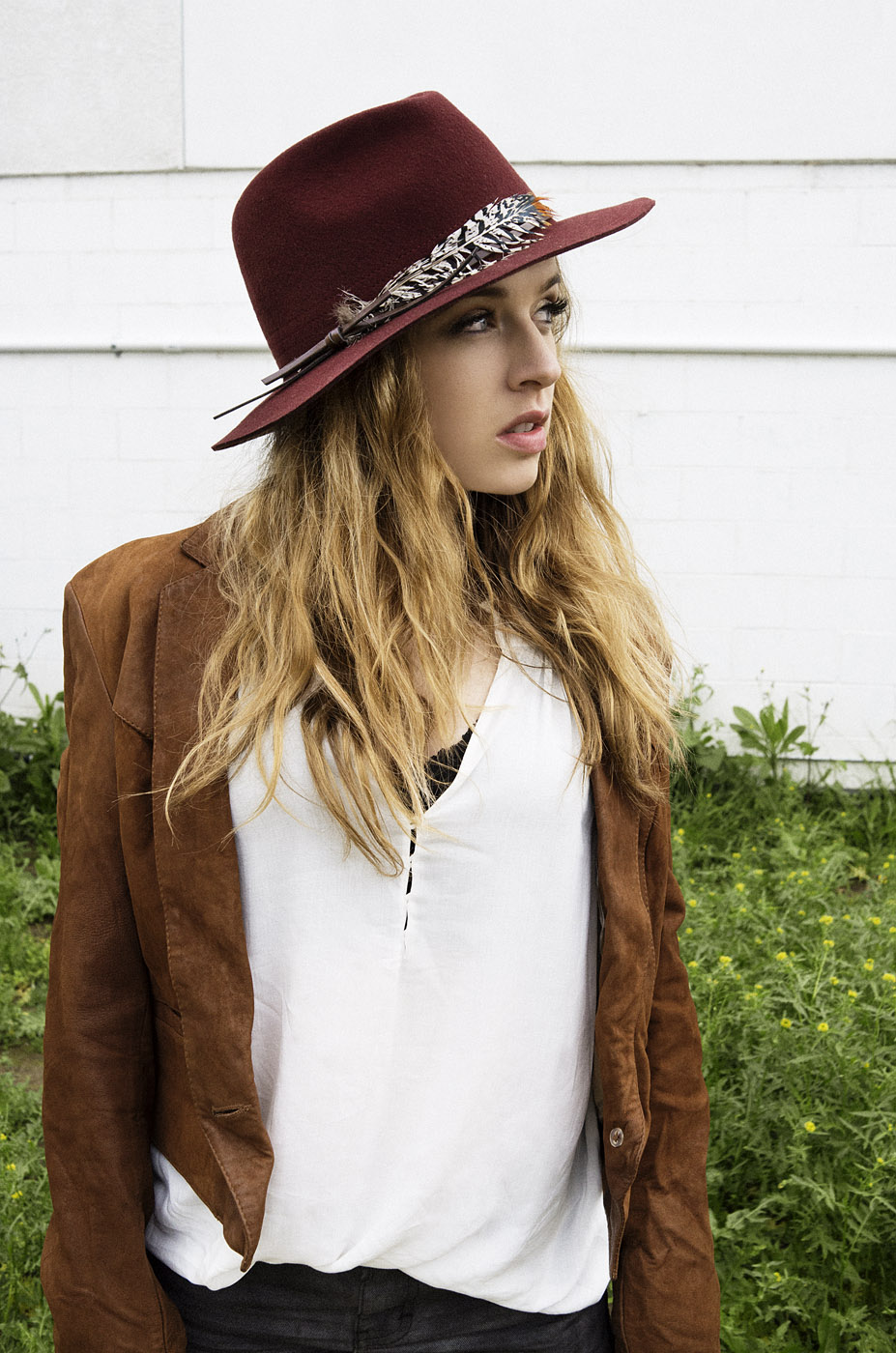 "This is the last love song I'll ever write for you…"
With a voice as honey-soaked as it is whiskey roughened, ZZ Ward is quickly establishing herself as an exciting new blues artist. Her debut album, Til the Casket Drops, is full of blues music for 2013:  powerful melodies and aching lyrics paired with driving hip-hop beats. Ward sings about heartbreak, rage, grief, joy and sex in a way that's so visceral it socks you right in the gut.
Ward grew up with music in her blood (and Judaism, though she didn't learn that until she was an adult) and began performing wit her musician father at a young age. After they moved to Oregon from Pennsylvania, her father would, "get me up on stage with him and I'd sing. "As the Years Go Passing By" by Albert King was the first song I ever sang on stage with him. he harmonized with me, taught me how to harmonize, taught me how to sing."
It was clearly the right way to learn. Ward's music – lyrics, beats, melodies and all – is infectious and it's certainly gained her deserved attention, which she's capitalized on by working the road and gaining new fans at every show. This summer she toured the festival circuit, which she says is "a lot". I caught up with her over the phone earlier this summer when she was still in the midst of it all and she was eager to share the experience.
"There are some places that are really big, really big festivals with a lot of people there that already know me and are really into it, and there are festivals where we're making a lot of new fans who are just hearing about me. We're having a lot of fun."
Part of that fun is joining the crowd and seeing her favorite performers. "I've gotten to see Danny Brown and Kendrick Lamar this summer, Azealia Banks. I've gotten to see lot of artists that I admire, which is super fun. That's one of the coolest parts about festivals, seeing other artists on stage and being inspired by them."
ZZ Ward shared a sampling of the artists who inspire her, and the list is an eclectic mix of people who make great music. "I love great songs. I like Etta James, I like Tina Turner, Jay-Z, Outkast. Snoop Dogg, Biggie. And then I also liked songwriters and singers like Tom Petty and David Bowie. Bob Dylan. I try to be inspired through different artists for different things. Boy singers for their soul and their voices. I love the drive of hip-hop and I love hip hop beats.
Ward's connections with other artists made for some of the most interesting cuts on Til the Casket Drops. As someone who loves hip-hop, it was only natural for her to work with Kendrick Lamar on a song for her record. I always though Kendrick was incredibly talented. I wrote some blues songs over hip hop songs that I liked," she explained, "and one of them was one of his songs,  and he believed in me enough to contribute to my record." The result was "Cryin Wolf", one of the record's stand-out tracks:
Ward built her record from the ground up, discovering who she was as a musician along the way.  "All the songs on my record I wrote by myself. I usually try to write pretty organically with guitar and piano, but I also like to switch it up with every track. I like to not write just one way, but it's usually melody before lyrics. I really embraced who I was and my style on the record, a mix of blues and hip-hop, and it was a super fun process."
Don't expect a new record anytime soon, though, as Ward is still firmly entrenched in getting the first out into the world. "I'm starting to get fans, it's a very new time, now, and there are still a lot of people who haven't heard of me, so I'm still very much focused on working this first record. I'm starting to write again, because my life has changed a lot with traveling so much and touring, so I'm starting to write again and we'll see where that takes me."
Ward's music is perfectly suited for a journey. When I told her I'd been listening to her record non-stop during a month-long sojourn in a Costa Rican rainforest she gasped excitedly. "That's amazing, I wanna do that! Can I come with you next time?"
You sure can, girl, just make sure you bring your guitar.
****
ZZ Ward is currently on tour, check out the dates at her website and grab Till the Casket Drops on iTunes.
What do you think?