Back when Nirvana kept the masses sedated and the dress code was plaid with track marks, there were still angry punkscenes brewing.A thousand miles below sadfuck Seattle,a few Jewish boys brought the hora dance to the moshpit toform a whole new scene: Yidcore.
Gefilte Fuck, a dynamic force of Bar Mitzvah-bred fury,was led by frontman Howard Hallis. Clad in yarlmulkes and tallis, they covered and parodied Jewish songs with therage of Johnny Rottenand theirownunique brand of humor. "[Gefilte] Fuck would storm the stage, berate the audience and hurl gefilte fish at them," recalled Hallis. From his Santa Monica home — justa fifteen minute drive and a lifetime away from hispunk glory days–the Hebrew school answer to Sid Vicious reminisced with Heeb about the band that gaveus "Why Don't We Do It in The Shoul?"and the bestversion of "The Dreidel Song" ever.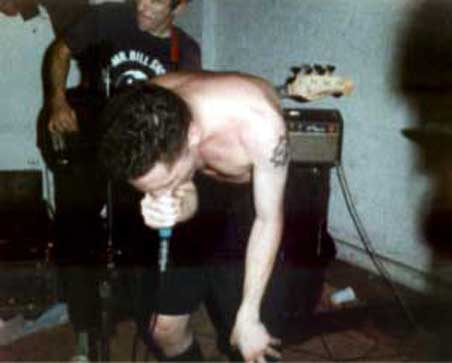 Tell us about the L.A. Yidcore scene.
The only other band that I knew of that labeled themselves "Yidcore" was Jews from the Valley . . . . They were long since broken up when Gefilte Fuck hit the scene. Of course, there were quite a few legendary L.A. punk rockers who were Jewish: Greg Hetson, Keith Morris, Brett Gurewitz, some of the Chili Peppers.
How does it feel to have been on the early wave of Yidcore?
Like eating a prune hamentaschen while watching Yentl in a fluorescent green Snuggie.
How did you first get involved land the roll of frontman?
I have absolutely no musical ability but very little stage fright. I was an art student, so I was not above humiliating myself and making a spectacle in the name of entertainment, which are admirable traits in a frontman.
How religious were you?
For me personally, I would say I'm an Agnostic with a Jewish cultural heritage . . . . My folks raised me with the cultural traditions but also cultivated a good sense of humor about it.
Were your shows more about being funny or edgy? Or did you just want to prove Jewish boys could be punk?
Although there were Jewish people in the L.A. scene at the time, most folks who saw us were not religious. At least not outwardly. Gefilte Fuck was definitely done in a humorous way rather than a way to win converts or promote Judaism as a belief system. Still, getting a bunch of nihilistic punk rock art weirdos to dance a hora inside of a slam pit was a neat merging of cultural rituals.
Ever play aBar Mitzvah?
Nope. Never got to do an actual Bar Mitzvah, wedding, or other Jewish event. I don't think it would have gone over too well, but you never know. We would probably be a hit at a B'nai B'rith summer camp dance, if most of the attendees were stoned or drunk.
IsGefilte Fuck one iTunes release away from hitting cult status?
Sadly, the demos we recorded back in the day weren't very good. The ones on the website are the only ones we made, and those songs are not enough for an album . . . .Perhaps it's Beshert.
Click here to listen to five of Gefilte Fuck's songs or go to www.gefiltefuck.com.
What do you think?