If you're 18, and your mother brags about your SAT scores, it's embarrassing. If you're in your late 20's and she's still praising them, something's amiss.
For struggling NYC standup Donna  (Parks and Rec's Jenny Slate), that "something" is actually a whole lot of things: Her uptight mother hasn't been proud of anything else she's done since taking the SATs a decade ago. In the first scene of Obvious Child (written/directed by Gillian Robespierre), the sweet-faced and dirty-joking Donna gets dumped for another girl and proceeds to get hit by a barrage of life demons, including losing her job and getting pregnant.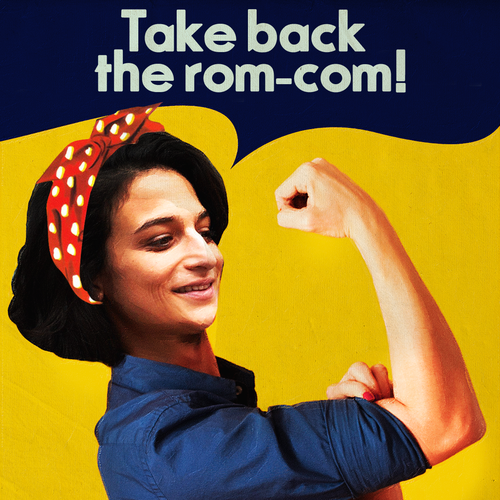 There isn't much of a narrative here; nobody's trying to save any cats. Obvious Child simply follows Donna's emotional sandstorm for a few months. Helping her through it all is her friend Nellie (GIRLS' Gaby Hoffmann), and her father (A Serious Man's Richard Kind), and mother (Thirtysomething's Polly Draper). None of them dole out much helpful advice, but they give her a shoulder to lean on. Eventually, the film turns into a weird love story – one that that's, surprisingly, pretty heartwarming.
Most important than "heartwarming," though, is the fact that Obvious Child is funny. Really funny. Not in a "side-splitting one-liner" kind of way; it's more that every joke hits, a rare and impressive feat. The comical moments are all clever and new. Characters tell their own jokes sometimes, but only because so many of them are stand-ups, and they're trying to make each other laugh. It's all very self-aware.
The characters are solidly true-to-life, from Donna's motherly, feminist best friend Nellie to a comedian buddy (David Cross) who doesn't quite have the guts to hit on her but also doesn't have the decency to stop whining when she won't spend the night at his place. The closest we get to a traditional Hollywood archetype is the Prince Charming country boy (Jake Lacy) who valiantly puts up with Donna's bullshit and mixed signals. Things like a brilliant plan to invite Prince Charming to a show and then leave with another male friend just as he arrives.
Donna exists in that psychic land between college and whatever is supposed to come next, wandering through a hazy, but recognizable, New York atmosphere. Her New York City isn't glamorous in the "gritty, bittersweet, smoking a cigarette while watching a train roll out into the stockyards" kind of way. Rather, Donna spends her time getting smashed and peeing by a Subway, making Holocaust jokes to an uninterested bar audience, and trying to remember whether she used a condom for its intended purpose or as a finger puppet. Donna, Hannah from Girls, and the Broad City broads may very well live in the same Brooklyn apartment building. They should probably move in together to save on rent.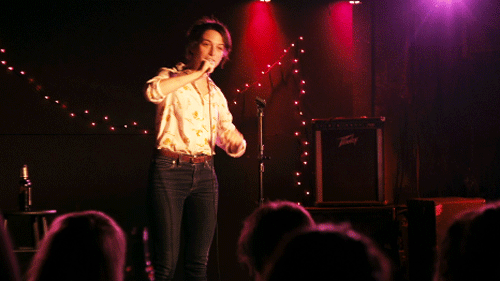 If Obvious Child has a flaw, it's that it occasionally takes realism a little too far, leaning on being self-referential as a meta-crutch. When Donna, cuddling with her Prince Charming, says something along the lines of "I don't watch romantic comedies. I can't relate to them," it feels like a cross between a weak joke and an apology to the audience. Donna's friends are all trying to break into the entertainment industry, and her Dad urges her to consider her struggles opportunities to be creative. At some point, you just want to shake her and shout, "You don't literally have to tell us everything that led up to this movie." I half expected a scene where she hole-punches the script (while making dirty jokes about "filling the hole").
A few years ago, this film would have been one of a kind. Now, after Sleepwalk with Me, Tiny Furniture, Broad City, and Louie, it doesn't take a sociologist to see this as part of a movement. We're being hit by punny waves of New York City comedians directing low-budget films inspired by their lives. Are these short-lived anomalies? A trend? A window into the future? If I were the gambling type, I'd put my chips on the one with private flying saucers and robot wars. When an amateur photographer can buy a camera and discover later that it happens to have an HD video mode, no one needs Hollywood contacts or Monopoly-style sacks of cash to make a professional-looking film. More and more artists are making their way into the mainstream by creating their own stuff and letting the industry discover them (or not: plenty of web series makers couldn't care less about industry players. Remember, Broad City spent three happy years as a web series before making the leap to Comedy Central).
If indie mainstay Gretta Gerwig is mid-leap from mumblecore to mainstream, certainly Gillian Robespierre and Jenny Slate could easily joke their way down that same starry road. That is, if they want to.
Could massive Hollywood blockbusters give way to quirky New York City experiments? It's probably a presumptuous question to ask … Until it happens. With successes like Obvious Child, the answer isn't so obvious.
****
Obvious Child is in theaters now.

What do you think?