Meet Chevonne, a redheaded sex-bomb and proud resident of New Jersey. She lives in a world where 7-foot drag queens are approachable and the 90s are old-school. With her new single "My Menorah" (which she performs tonight at New York's Heebonism party), Chevonne's working the club scene, thoroughly enjoying her success and flaunting her tits whenever possible. Heeb caught up with the singer to talk about her eclectic following, why she nicknamed her privates after a piece of Judaica and how she's really just another Jewish girl looking for love.
Let's talk about your hair for a minute. Is it real?
Oh, it's real.
Can I touch it?
Um, sure. I just got a fresh salon job.
I'm curious about your getup. Is Chevonne a character? You are fairly over the top.
It's totally me, too much all the time. I love to be in full drag.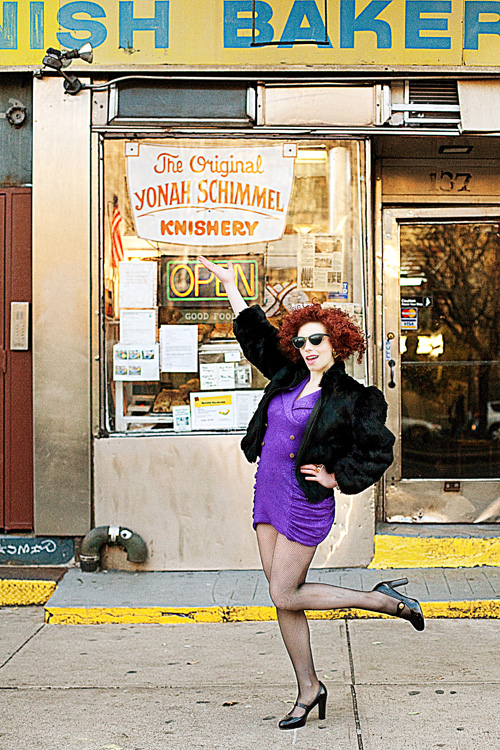 Do you feel like you intimidate people because you're so completely made up all the time?
I would hope I'm not intimidating. I would rather be approachable. When I see a drag queen, I immediately get the urge to run up and talk to her.
Do you have a big drag following?
I do have quite a few drag queen friends, and a lot of friends in drag who aren't drag queens per se.
What do you mean?
I am just very drawn to flamboyant, weirdpersonalities. People who are a little weird are also very drawn to my music.
I see. What are you working on right now?
Well, I really like this new thing where you can have a single, release it and totally ride the wave of that one song. I have these two songs that I've been working on. When all the holiday stuff dies on New Year's Day, I'll probably be performing those two songs in the gay club scene, or maybe the hipster scene, or whatever scene will embrace me, I suppose.
Just those two songs over and over again, huh? I've been listening to "My Menorah" quite a bit. Do you think you gravitate toward Jewish themes in your music? Are you trying to be ironic?
Sometimes songs just come to me in less than five minutes. "My Menorah" is an example of that. I was just sitting at my piano and this really old-school 90s riff just poured out of me. With that said, there's always a little bit of schtick in my music. I want to make people laugh.
I just want to say that it is very cold today. Are you really going out dressed like that?
My mother is here. I've been hearing it all morning.
I think your skirt might have gotten shorter since I've been here. Do you keep your mom around to make sure your ass doesn't escape the confinements of your fishnet tights?
Yeah, she's very supportive.
Before we wrap it up here, I am sure our readers are dying to know if you're currently attached.
I don't have a boyfriend. As a matter of fact, I'm on JDate. I am pretty easy to find, too.
Special thanks to Yonah Schimmel Knishery.
What do you think?