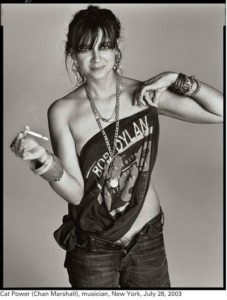 Cat Power, the indie/folk musician with a broken caps lock key, has decided to cancel her show in the hipster Mecca of Tel Aviv. Here's what happened on Facebook: First she tried to find out if she could play a show in Ramallah. She couldn't. (She probably could have played a free show somewhere, but taking a stand on human rights don't come cheap.)
"MUSIC IS HEALING AND IT IS NOT HUMANE IF ALL CANNOT HAVE THE CHOICE, THE RIGHT, TO ATTEND.
H E L P, A W A R E N E S S X X X X X"
Because everyone deserves the right to pay $19.95 to see her, dammit! She's from America! Uh! Then she turned a bit desperate.
CAN SOMEONE HELP ME FIND A SHOW IN RAMALLAH, MONDAY FEB. 13 FOR THE PEOPLE OF PALESTINE?
I AM GETTING NO LUCK….
T H A N K U !!!!!!!! XXXXX
And finally:
DUE TO MUCH CONFUSION IN MY SOUL,PLAYİNG FOR MY İSRAELİ FANS W/SUCH UNREST BETWEEN İSRAEL&PALESTİNE I CAN'T PLAY,AS I FEEL SICK IN MY SPIRIT XX
Sadly, because of the demons in her Jewish soul…wait a second? She's not even Jewish? Why is she punishing all Israelis and Palestinians? Because she has some moral high ground against Israel? Shouldn't she stop playing in the South because of their historical hatred of minorities and suffocation of women's rights?
I guess the terrorists won. We're keeping American culture out of the Middle East. Good job, Cat Power. Way to be a pussy.
What do you think?