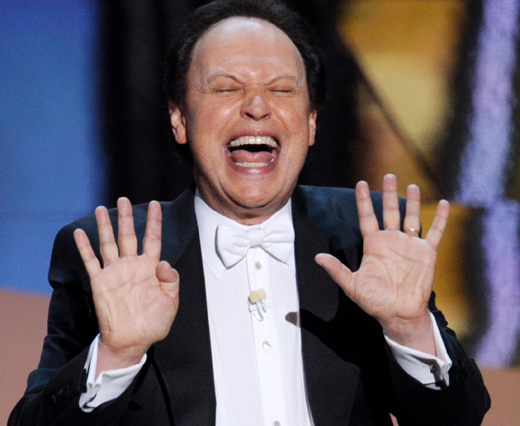 Speaking to the Television Critics Association this week, the actor/comedian – currently doing rounds of press for his upcoming return to TV – is reported to have said, regarding "gay scenes" on television:
Sometimes I think: 'Ah that's too much for me'. Sometimes, it's just pushing it a little too far for my taste and I'm not going to reveal to you which ones they are. I hope people don't abuse it and shove it in our face to the point where it feels like an every-day kind of thing,
Strong words considering Billy is famous for, among other things, having played Soap's Jodie Dallas – one of the first openly gay men on network television. That, and his years spent hosting the the Academy Awards, singing and dancing while surrounded by golden statues of naked men.
Still, in light of Billy's request that we don't "abuse" the amount of gayness he has to deal with on his television set, I can't help but ask – just how much would he like shoved in his face, instead? Can we keep HBO's Looking, but nix any syndicated reruns of The L Word? Is Brooklyn 99's Captain Holt alright, but Modern Family's Longines a bridge too far?
Sorry, Billy, but if it's gay over-exposure to you're worried about, I'm not sure the entertainment biz is the right line of work for you, after all.
What do you think?