Man-oh-Manischewitz.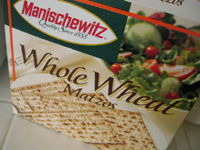 Kosher food giant Manischewitz, famous for their extensive lines of flavorless passover foods and terrible table wines, is about to become the wholly owned product of none other than Bain Capital, the private equity firm founded, in part, by failed republican presidential candidate Mitt Romney.
Reports the New York Times:
The Manischewitz Company, whose matzo and gefilte fish are a staple of Seder tables around the world, is expected to announce on Tuesday that it has been sold to Sankaty Advisors, an arm of the private equity giant Bain Capital. The deal, just in time for Passover next week, may help the 126-year-old company expand beyond the kosher aisle.

Manischewitz, a household name among Jews but with lower visibility outside its niche, is trying to capitalize on the mainstream craze for pure and healthy food. Under its new owner, a firm with expertise in revamping corporate strategy, the company is expected to promote "kosher" as a quality-control designation, rather than a simply a religious one.
The "kosher as quality" campaign is an interesting one, if only for the fact that easy-bake cake mixes and saccharine fruit-slices are not the first things that come to mind when people think "quality-control."
Still, a company founded by a man whose political career could charitably be called "dry and flavorless" buying a company that makes matzah…well, it makes sense.
What do you think?