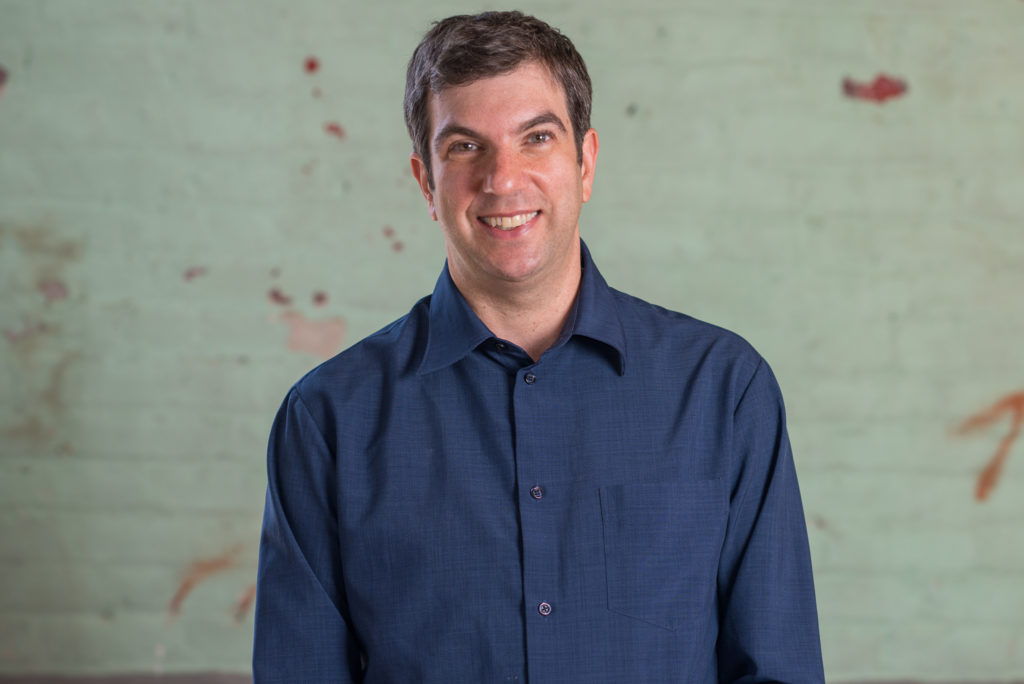 Three years ago, A.J. Jacobs received a very strange email from a dairy farmer living on an Israeli kibbutz. The man said that Jacobs didn't know him, but they were eighth cousins.
"I thought he was going to ask me to wire $10,000 to Nigeria," Jacobs told me. "But he was actually building the largest family tree in human history."
Apparently, this cousin had put together a family tree that included millions of people from countries all over the world. "I thought this was so fascinating," Jacobs said. "It was about identity, politics, and religion. I knew it had to be the topic of my next book."
That book, It's All Relative: Adventures Up and Down the World's Family Tree, chronicles Jacobs' three-year journey learning about the worldwide family tree, how everyone is connected, and how he fits into the bigger picture.
While researching the book, Jacobs interviewed both immediate family members and distant relatives, including former U.S. President George H.W. Bush, English actor Daniel Radcliffe, and English comedian Ricky Gervais.
Jacobs even took several DNA tests as part of the process. Not so surprisingly, he learned that he is of Ashkenazi Jewish descent. Since his wife is from the same background, they are apparently sixth or seventh cousins, he said.
"I thought it was cool and that it might add a little spice to our marriage," Jacobs said. "She was freaked out because I told her when she was watching Game of Thrones. I thought it was very appropriate. But everyone marries their cousin, truthfully. If you're an Ashkenazi Jew marrying another one, it is going to be remarkably close."
On the other hand, one DNA test revealed that Jacobs is 2.5 percent Egyptian Arab. "I literally have the Middle Eastern conflict going on in my body," he said.
As part of his journey, Jacobs organized the largest family reunion in history. 3,700 people came to his Global Family Reunion in New York, which featured performances and talks from Sister Sledge, Morgan Spurlock, Danny Lobell, Nick Kroll, and Ophira Eisenberg.
"It was one of the weirdest days of my life because of the crazy mix of people," said Jacobs. "You had comedians like Danny, you had scientists, and there was at one point a rabbi, a minister, and a Buddhist monk all giving their thoughts on family."
In his book, Jacobs touched on various topics relating to genealogy. One portion explored people who advocate for first cousin marriage. "I find it to be a very interesting argument," Jacobs explained. "If you look at history, many of our ancestors had first or second cousin marriages."
Jacobs also learned about how his great-great-grandmother arrived in the U.S. Her husband didn't pick her up because he was having a second bowl of soup at his sister's house. "She thought her husband had abandoned her, and she had to stay overnight in Ellis Island," Jacobs said. Her husband finally showed up the next day. "It better have been the best soup in history," said Jacobs. "He caused a lot of suffering."
Jacobs also learned that, back in Poland, his second-great-aunt was supposed to marry a man she'd never seen. She waited at the chuppah with her family and the rabbi, but the man didn't come. One of her relatives looked around, saw a man walking by outside, and asked him if he was single and wanted to get married. He said yes. The great-aunt and the man got married and stayed together for 50 years.
"The original groom, it turns out, had broken an axle on his wagon and showed up the next day," said Jacobs. "It's just crazy how luck plays so much into who we are."
Jacobs isn't alone in his recent genealogy obsession. In 2015, MyHeritage, a genealogy website, asked its 80 million users for photographs of family members they looked like. Users uploaded more than 78 million documents and photos. Geni, another site that lets you build your family tree, has more than 100 million living users.
With these large databases, people are realizing that we are all related. In It's All Relative, Jacobs writes that this insight may hopefully "nudge us to treat our distant cousins a little more kindly. Or at least less awfully."
Now that It's all Relative, is out, Jacobs is anticipating The Year of Living Biblically, a new sitcom based off his book of the same title that premieres in February.
He's also working on a new book. Jacobs considers his morning cup of coffee to be one of his greatest joys in life. So he talked to everyone involved in making that coffee and getting it to him, from his barista, to the person who designed the coffee shop logo, to the farmer who picked the beans, to the person who got the tires for the coffee manufacturer's trucks.
Once again, Jacobs is taking a step back to see how everything is connected. As he puts it, "There are hundreds of thousands of people who contribute to every little thing we do."
What do you think?