It's been a tough couple of years for Adam Sandler: First was the the abysmal Jack and Jill. Then That's My Boy barely made a blip on anyones cinimatic radar. And now it turns out Sandler's now-famous Hanukkah Song is woefully inaccurate. In an interview (well, more like an accosting) with gossip site TMZ, legendary baseball star Rod Carew is prodded for his thoughts on Sandler's ode to Jewish celebrity – in particular the verse:
O.J. Simpson // not a Jew!
But guess who is // Hall of Famer Rod Carew (he converted!)
Carew, now in his late 60's and decades away from his heyday as the crown jewel in both the Minnesota Twins' and California Angels' batting line-ups, set the record straight:
"No, I am not. I was about to convert, but I never did. I think Adam found out about that."
Not that there are any hard feelings. Carew explains: "I got to know Adam. We became friends. It was good."
So there you have it. Guess who's not Jewish. Hall of fame-er Rod Carew.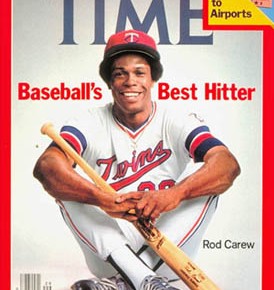 Here's the whole (short) interview:
What do you think?