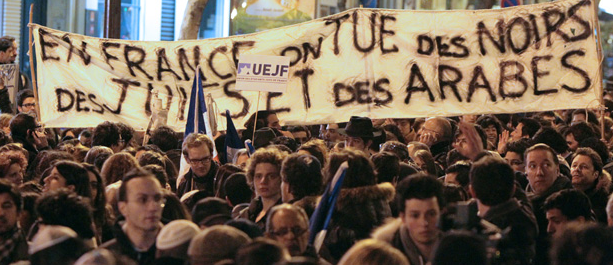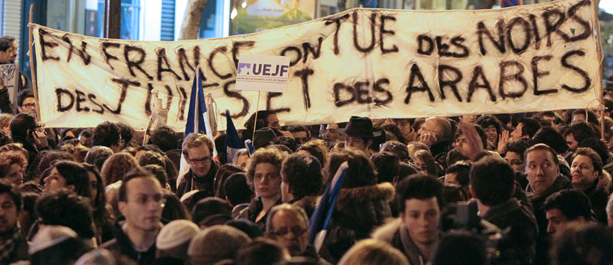 Jewdar will give the French credit; they have a real knack for making the best out of a bad situation. It doesn't take much ingenuity to turn lemons into lemonade, but to turn moldy cheese into Roquefort? Brilliant (and let's not get started on turning 4 years of collaboration into a story of heroic resistance). So we were not terribly surprised by the tack the French were taking after the shootings in Toulouse. Suddenly, all were aflutter at the prospect that the shooters were neo-Nazis, equal opportunity haters who target not just minorities, but the very essence of French society itself (did we mention how heroic the French Resistance to the Nazis was?). some  decried the joint racism of the attacks, and protesters took to the streets to protest the racism of a French society that "kills Blacks, Jews and Arabs."(see picture, above)
Sadly, this harmony has been shattered by the reality that the shooter seems not to have been an Adolf, but a Muhammed–Muhammed Merah, to be precise. According to reports, Mr. Merah is an Al-Quaeda enthusiast who'd spent some time in Afghanistan. Even worse, he claims that his shooting of the Jewish kids was in retaliation for Israeli killing of Palestinians.
Okay, tell the university students to go home. There's no racism to protest here. But everybody should be back here, same time tomorrow, for a demonstration against the blockade of Gaza.
What do you think?