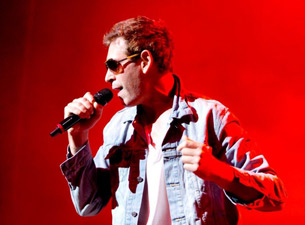 Well, well, well, what do we have here? Why, these look suspiciously like tickets to a Matisyahu concert? In fact, that's exactly what they are – Two tickets to see Matisyahu, live and in concert, at his upcoming show on Feb. 13th at The Paramount, in Huntington, NY, as part of his Spark Seeker acoustic tour.
And, since we're such big fans of you, dear readers, we want you to have them. But, you're gonna have to work for 'em…
We want to know – If you could hear Matisyahu cover any song in concert, what song would it be and why? Simply email your answer to [email protected] [Subject line: "I want Matis Tix"] by Thursday, February 7th. The best answer – as determined by Heeb's editorial staff – will win two tickets for Matisyahu's Feb. 13th show. The winner will be notified by Sunday, February 10th.
Here's the details:
What: Win two tickets to see Matisyahu in concert
When: Between now and Thursday, Feb 7th. [Concert itself is on February 13th at 8PM]
How: Email [email protected] [Subject line: I Want Matis Tix] with your name, and your answer to: What song you would like to hear Matisyahu cover in concert, and why?
Winning:
– One submission will be chosen by, and at the discretion of, the Heeb editorial board as the winning entry.
— Winner will receive two (2) tickets to see Matisyahu in concert at The Paramount – 370 New York Ave, Huntington, NY 11734 on Feb. 13th.
— Winner will be notified by email.
— Winning submission announced on Sunday, February 10th.
Good luck!
What do you think?