In the Jewish version of good-girl-meets-bad-boy the only thing wrong with the boy is his religion. So it is in former Heeb contributor (we're shepping nachas here) Malina Saval's debut novel, Jewish Summer Camp Mafia, the hilarious tale of a Jewish teen named Mushky who signs up to be a camp counselor–hoping to meet a hot Bar-Mitzvahed boy to hook up with in the woods behind the lake, but winding up in the thrall of an Irish-Catholic, the lone goy.  Our excerpt last week featured Mushky's first encounter with an uncircumcised penis. This week Saval answers a few questions: about her own Jewish summer camp experiences, why Jews need more books like this one (we do), and her fondest memory of Heeb (and Jeremy Piven!).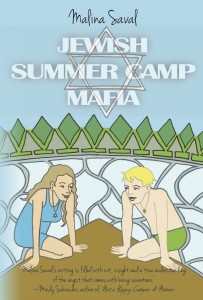 What was your inspiration for this novel–and how did you come up with the alliterative gem Mushky Malka Mendelssohn?!?
I spent one of the absolute worst summers on my life at a barely-Jewish summer camp in the Poconos that served as the basis for the book. I'd just finished up my freshman year at Cornell and needed to find some sort of summer job. I'd gone to Jewish summer camp as a kid, had the time of my life and made friends with whom even today I keep in touch, but when C.A. summer rolled around—the Camp Pembroke equivalent of CIT—I decided to stay home, take a month-long driver's ed course, sit in my stuffy suburban bedroom, watch depressing movies, read depressing books and hang out with my grandparents in London for a week. London aside, it was one of the most ill-conceived summer vacations in the history of Jewish adolescence. And once you miss C.A. summer, you can't go back as a counselor for two more years.
So, I decided to go to this other camp, and it sucked. I mean, it was the worst camp experience ever. I tried getting fired several times. When I got back to school I wrote a funny short novel about it for my creative writing class, and I even got an 'A,' but then I put it away and only about two years ago decided to revisit the topic.  And the book just grew from there–it's not based on what happened to me, it's inspired by many different Jewish summer camp stories. The characters are composites of campers and counselors I've known over the years.
As for Mushky's name, I wanted to come up with the most Jewish-sounding name possible, and I'm not sure it gets any more Jewish than Mushky. Have you ever been to a Chabad house? Every girl born after the death of Schneerson's wife is named Mushka or Mushky. If not, they're named Chaya Mushka. Mushky—I love the way it sounds. It's so cute and adorable. It really sings. I think it's one of the best names ever.
How is Mushky's story uniquely Jewish compared to what teens of other religions might experience?
I think what makes Mushky's story uniquely Jewish is what makes every Jew uniquely Jewish. Everybody has their own personal relationship with the culture, the religion, all the trappings that come with being Jewish—the guilt, the neurosis, the chronic sense that you could always be doing better. Mushky thinks too much, she lives way too much in the future than in the present, she's an emotional sieve, she feels everything. Can non-Jews relate to her? Of course they can. Teenagers especially because they live in the same sort of confusion and fear as Mushky.
Disregarding the extremists who would complain that you're "encouraging" Jews to date goys, is Jewish Summer Camp Mafia good or bad for the tribe?
This book is a great book for Jews! For starters, because I wrote it, and I am extremely knowledgeable about Judaism and the modern Jewish experience. Also this is not a book about encouraging anybody to do anything. It's a realistic account of what happens when we live in the diaspora, travel in circles that are not exclusively Jewish, and meet and fall in love with a fallen-away Irish-Catholic goy. This happens all the time. Remember, in Fiddler on the Roof, Chava ran off with a Cossack. I'm not out to make any sort of political or cultural statement–it's simply a book about what is. And the characters in it are young, they're still figuring things out. I think there's a good chance that Mushky will end up with someone Jewish, maybe even her Jewish best friend character from the book. But a lot is going to happen between Jewish summer camp and Mushky's future wedding. There's an old Yiddish proverb, "Experience is what we call the accumulation of our mistakes." I pretty much live by that, and I think ultimately so will Mushky.
What's your favorite article you wrote for Heeb back in the day?
Definitely the cover story of Jeremy Piven. We met at Toast, a cafe in LA, and there was a paparazzo standing on the sidewalk across the street snapping pictures. At an adjacent table a few girls were gawking and at one point Jeremy turned around and flirted with them, and I was sitting there with my recording device and half-eaten salad feeling pretty awkward. But he was really sweet and we talked about his Bar Mitzvah and compared Bar/Bat Mitzvah dance-party soundtracks. I was pregnant with my daughter at the time, and he wished me Mazal Tov and gave me a kiss on the cheek. I was sort of hoping that a picture of the two of us having lunch would wind up in Us Weekly or People, and there was a picture—of him. They cut me out of the shot.
What do you plan to do next?
Go to Disneyland! Just kidding. I live 30 minutes from Disneyland and I haven't been in two years. My kids have only been to Disneyland twice. In LA this is cause for calling the Department of Social and Family Services!
What do you think?