Fours days, 150,000 people and unlimited beers. Oh, and there was some music, too. Austin, Texas's SXSW festival, a yearly migration for hangover, hype and brilliance, is an opportunity to finally hear first-hand all the bands you've been hearing _about_.
I was planning on taking it easy this year, but I still somehow managed to catch a total of 35 bands just by walking in and having ears. The set includes: Miike Snow, Les Savy Fav, the Dum Dum Girls, Yelawolf, Japandroids, Local Natives, Harlem, Bear In Heaven, Delorean, Muse, Class Actress, Fang Island, Fool's Gold (still with me?), Chew Lips, Salem (twice), the Morning Benders, Marina & the Diamonds, Hunx and His Punx, Chico Man, the XX, jj, MNDR, Avi Buffalo, Le Loup, the Very Best, Sleigh Bells, Orphaned Land, Geographer, Think About Life, Fitz & the Tantrums, Javelin (we're almost done here), Cheeseburger, the Drums, Shout Out Out Out, Bomba Estereo and Danger Mouse (actually, I saw this guy just walking in the airport, but it was a walk worthy of applause).
Though a lot of music, the list pales in comparison to my colleague Chris Weingarten's 100 Bands/4 Days Mission. And while I, too, would love to write 140-character descriptions of all the aforementioned acts, I think it's safer just to stick to the very best of SXSW 2010:
1. The Dum Dum Girls: Yes, the fuzzed-out girl group bit sounds a bit redundant these days, but, boy, does is it work for these four impossibly smoking yet cold-as-ice fembots. Rocking with composure and black widow-like intensity, lead singer Dee Dee (no last name) opened their set at the Levi's Fader Fort with a cover of the Rolling Stones's "Play With Fire." That takes some confidence. Which they definitely have.
Photo by Aaron Richter
2. The Drums: No band inspires such feverish debate among the informed like Brooklyn's the Drums. Too posed, some insist. Too referential, yell the others. One friend even left the set midway through, insisting it was so cheesy, "you could spread it on a bagel." These are intended as criticisms, yet the Drums _are_ posed and referential. In a good way. Lead singer Jonathan Pierce's Bowie-meets-lounge singer act is awkward and hypnotic, and the foursome's stylish look could score them day jobs as mannequins at Urban Outfitters. No wonder the band's so popular with the youth — definitely not groundbreaking, but it sure is pretty.
3. Shout Out Out Out: SXSW has an abundance of indie rock bands, yet somewhat lacks in electronica. Edmonton's six-man collective fills that gap with music made for interstellar road trips. Led by the robot-voiced Nik Kozub, Shout Out Out Out afflicted a room full of partiers with restless leg syndrome. Their obscurity must be due to their Canadian home base; if the triple Outs lived in New York, they'd surely be every hipster's Saturday night soundtrack of choice.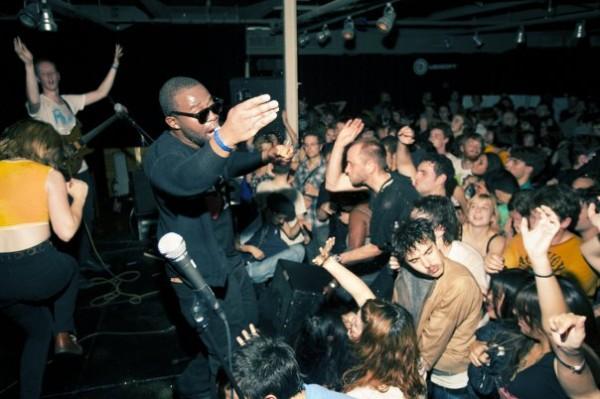 4. Think About Life: By the name alone, one would expect this Montreal foursome to be heady and introspective. They are very much neither. TAL's performance was the only time I witnessed a SXSW audience drunk, comfortable and inspired enough to join a band onstage for a dance party. On songs from sophmore album _Family_, Martin Cesar's jerky art-rock vocals were boosted by newest addition Caila Thompson-Hannant. This is very much an example of needing to see a band's live show to "get it."
And since they can't all be winners, I'll point out one disappointment: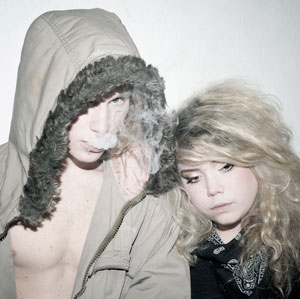 jj: Perez Hilton himself wrote (seriously, _that_ Perez Hilton) on the EW blog, "I saw jj earlier this week. I love their album, and they were awful live . . . embarrassingly bad. It was insulting as an audience member, actually, how little they cared. This girl just sat there, not having any interaction with the crowd, being lethargic. It was disgusting." This is the one and only instance I actually agree with the douchebag, but you know what? I still love those records.
Related posts:
Daryl Hall: Music Legend and Blond Jew Finally Gets His Due
SXSW Recap, the Recappiest (2009)
SXSW Recap II, More Recappier (2009)
What do you think?