Lionsgate Entertainment has just bought the North American rights to Dibbuk Box, the story of a haunted Jewish cabinet brought to America by a Holocaust survivor. The film will be produced by Sam Raimi and Rob Tapert of Ghost House Pictures.
The film centers around the titular box, which houses a granite slab, a dried rosebud, a goblet, two wheat pennies, a candlestick, two locks of hair and, according to the previous owners, one badass Jewish spirit that has led to all sorts of creepy paranormal stunts. Alleged to be based on a "true story," the dibbuk box was purchased by an antique buyer in 2001 and subsequently sold on Ebay twice since 2003.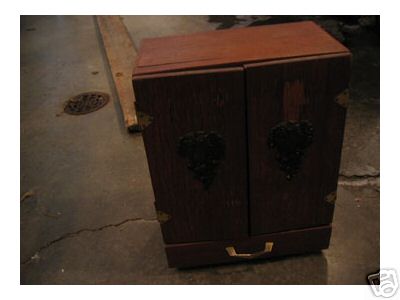 The original dibbuk box has been blamed for a slew of rotten stuff, including destroyed workspaces, strokes, the smell of cat piss, loss of hair, haunting nightmares, sudden electronic troubles, and big black vertical blurs loping down household hallways. You can wet your appetite for the movie and read the full history of the box right here.
The film will use the 2004 Los Angeles Times story by Leslie Gornstein as a source. The plot revolves around a family struggling to rid themselves of the box's curse. You can just hear the pitch: "It's A Serious Man meets Ghostbusters!"
What do you think?