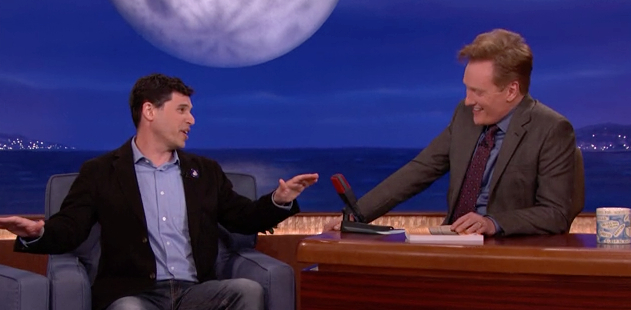 Max Brooks has done the yeoman's work of establishing himself as a creative force in his own right (often, but not exclusively, in the field of "Zombie literature") outside of his legendary father Mel's Hollywood shadow. So what alchemic elements from Max's childhood helped contribute to his unconventional career writing zombie fiction? Last night on Conan O'Brien's TBS talk show Max opened up about the foundational moment in his zombie obsession.
It all started with a quest for boobs…
But lest you think Max is content to rest on his zombified laurels, his latest project, "The Harlem Hellfighters," is the story of an all-African American platoon on World War Two combat soldiers, rendered as a gorgeously illustrated graphic novel. And from where did Max's interest in WWII come? From his combat veteran father, Mel, who retailed his young son with tales of booby-trapped toilets in enemy territory, before later ruining Adolf Hitler entirely for the third generation of Brooks men:
What do you think?