When last week we reported that adult film legend Ron Jeremy was in the hospital following complications from a heart aneurysm, we had no idea his near-death experience would mean so much to so many of you. So, we were touched by the outpouring of support you, dear readers, offered to the ailing schtupper. One reader even went so far as to write us, asking if we know Ron's Hebrew name (we don't) so they could recite the traditional Jewish prayer of healing for him. We would have made something up, but somehow "Ron ben-Giantschmeckle" just didn't seem appropriate for a liturgical setting. 

Well, we're happy to report that "The Hedgehog" is out of immediate danger, and doing better already; Yesterday afternoon Jeremy tweeted: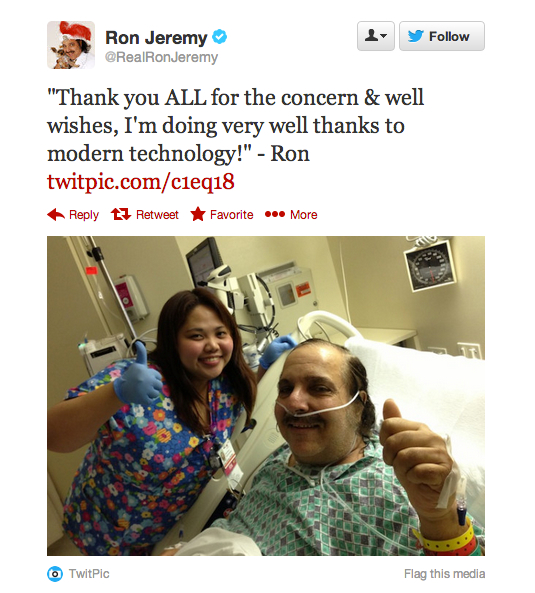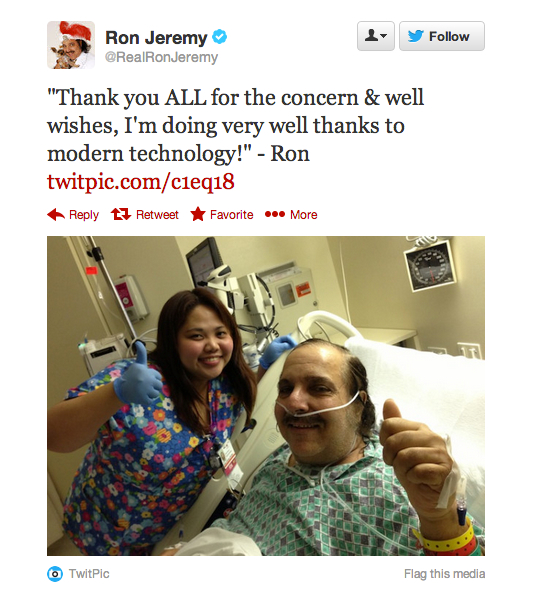 Still, it looks like Ron's got a long, hard…road to recovery ahead of him. As The Huffington Post reports, Jeremy doesn't expect to leave the hospital for quite some time, during which he'll focus on getting the blood pumping again. Regardless, we're just happy to see Ron is on the mend, and look forward to the day he's up and around on his own three legs.
[via The Huffington Post]
What do you think?