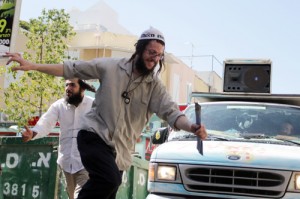 By: Benjamin Preston
Anyone who's ever been to Tel Aviv's more happening neighborhoods has probably seen – or heard, mostly – the bright graffiti-covered, techno-blaring Na Nach vans which occasionally roll by.
Stand on a corner along Shenkin for long enough and one is sure to whip around the corner, spilling smiling, bearded, dancing men out its side door onto the street. Wearing distinctive white-knit kippas — each topped with a little white tassel and ringed with blocky, blue Hebrew letters spelling "Na Nach Nachma Nachman Meuman" around the bottom edges –these Bohemian street revelers are known as the Na Nachs.
As they bounce and spin and wave their arms to pulsating trance beats laid on top of a repetitive song celebrating Rebbe Nachman of Breslov, pedestrians and motorists greet them with a variety of responses. There are always a few bewildered stares, and some people look outright annoyed ("You're hurting my baby's ears!"). But many people smile, laugh, clap to the music, and even jump into the street and dance with the Na Nachs. Not all their fans are even religious – most people in Tel Aviv aren't – but everyone loves a good impromptu, middle-of-the-day street party.
More often than not, someone ends up asking, "What drugs are those guys on?" I cruised around Tel Aviv in a techno-blasting van full of Na Nachs one day, and although some of them admitted to having been into drugs and partying earlier in their lives – there were a few former ravers and punk rockers in the group, one of whom told me about how he found Hashem while tripping balls on mushrooms – they've all sworn off intoxicating substances these days. In public anyway, Na Nachs are always seen smiling and dancing, and that's pretty much how they conduct their religious services, too. But for them, being joyful is serious business. For them, it's holy.
What do you think?