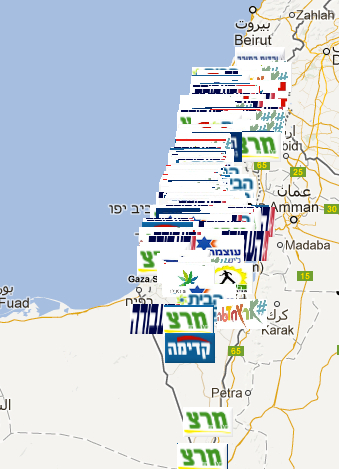 As you may or may not know, today Israelis head to the polls today to vote in their national elections. Israeli politics are notoriously complicated, and this years elections seem to be particularly…well…screwy. But, for those of you brave enough to try to follow them, here's a tool for you to use.
Israel Vote 2013 is a visual way to get a sense of how Israelis are casting their ballots. Along with political journalist Tal Schneider, and "accessibility information addict" Aviv Gonen, site co-creator Amir Give'on (the man behind crowdfunding platform Jewcer) describes it as "a wiki map that lets people in Israel "vote" anonymously for their party of choice and where they live. The map allows you see the general choices of those that voted and zoom into different areas of Israel to see how the votes are located geographically. It's a fun and engaging way to see how Israelis engage in politics and geographically where different parties have their supporters."
Now, the site is in Hebrew, so it's not quite as "fun and engaging" as it could be for us anglophiles. Still, for anyone looking for a snapshot of the Israeli political zeitgeist, this is a pretty good place to start.
What do you think?