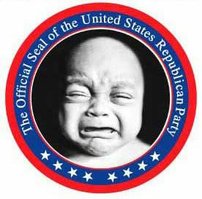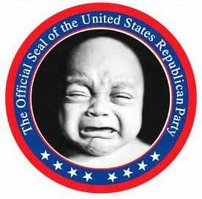 Perhaps it's just a reflection of our age and Midwestern upbringing, but Jewdar remembers a time when being a White Anglo-Saxon adult male actually meant that you suffered in silence.  Nowadays, that once storied stiff-upper lip has become a sad relic of a bygone era, and WASPs have gone from being paragons of stoicism to exemplars of that most ignoble of animals, the great American Crybaby.  Sure, Jews and blacks and others cry a lot about persecution, but in our defense, we actually took a lot of punches before we put together our assorted ADLs and NAACPs–but Homo Americanus Protestantus Albinus?  Let one thing go wrong for him and he begins bawling.  "Reverse racism!" "Jim Snow Laws!" "War on Christmas" and over course, "Attacks on Religious freedom."
That last is the flag being waved in the great state of Mississippi (which, to be sure, is preferable to the actual state flag which still proudly bears the Stars and Bars) as the governor there just signed a bill authorizing "unofficial" prayers at public schools and events, because,  according to the governor:
"we are about making sure that we protect the religious freedoms of all students and adults whenever we can."
Now, Jewdar is no constitutional scholar, but we're pretty sure that when the Founding Fathers put together the First Amendment, they intended it to protect the practice of religion, in the ways in which religion is practiced.  That is to say, they want to make sure that the public (in the form of the government) doesn't intruded on the private practice of religion, not that private religion intrude on the public.  A Jew has an absolute right to face Jerusalem and pray three times a day, but it's perfectly reasonable for his boss to require that he do that on his own time, and not in the middle of a big business meeting.  And while we're also not a theologian, we're pretty sure that while Christians may feel obligated to preach the Gospel, there is no requirement that they do so in every social setting.  Jewdar has, in our life, had friends who were fairly devout Christians, who were able to get through lengthy conversations without praying publicly.    Indeed, we know of no religion that mandates that JV football games be preceded by a prayer.
But while Jewdar finds the law absurd, we wish that the usual suspects (Jews, atheists, and Jewish atheists) would show a little more creativity in responding to the law than they doubtlessly will.  Of course, there will be a lawsuit, and of course, the lawsuit will be successful.  But wouldn't it be better if they decided to call the crybabies on their bluff, and instead of suing, took advantage of the law? Jewdar knows it may not be easy for the people involved, but we have a sneaking suspicion that after a few football games open with a speaker calling upon Ganesha to remove the obstacles to victory, or calling for a jihad against the rival school, the laws' most vocal defenders will be the first to get it revoked.
What do you think?