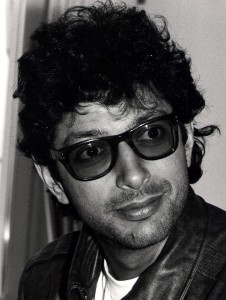 Sarah Silverman is coming back to television with a vengeance and a Hebraic ace-in-the-hole. The potty-mouthed star is hard at work on a new television pilot, currently dubbed "Susan 313," with a bevy of big-name talent in tow, namely powerhouse executive producers Ron Howard, Brian Grazer and director Ken Kwapis (who has directed a number of episodes of "The Office" as well as the monkey comedy Dunston Checks In). Now, she can count among her collaborators the only Jew who has ever saved the world from aliens and an all out dino-invasion, Jeff Goldblum. Per the Hollywood Reporter:
The vehicle — now titled Susan 313 — stars Silverman as a woman readjusting to single life following a decadelong live-in relationship, is loosely based on Silverman's life. Goldblum will reunite with Silverman following their turn on FX's The League and guest star in the pilot as her ex-boyfriend with whom she lived for 10 years. Should the pilot be picked up to series, Goldblum could return for additional episodes.
I'm not so sure the two of them would ever have made a good match, which perhaps explains the breakup. My guess is that Jeff Goldblum will act a lot like Jeff Goldblum, and we'll all love him for it. Here's hoping NBC picks this one up. If they greenlit "Whitney" chances are they'll give the go-ahead to just about anything.
For your viewing pleasure, classic Goldblum being Goldblum:
(via Vulture.)
What do you think?