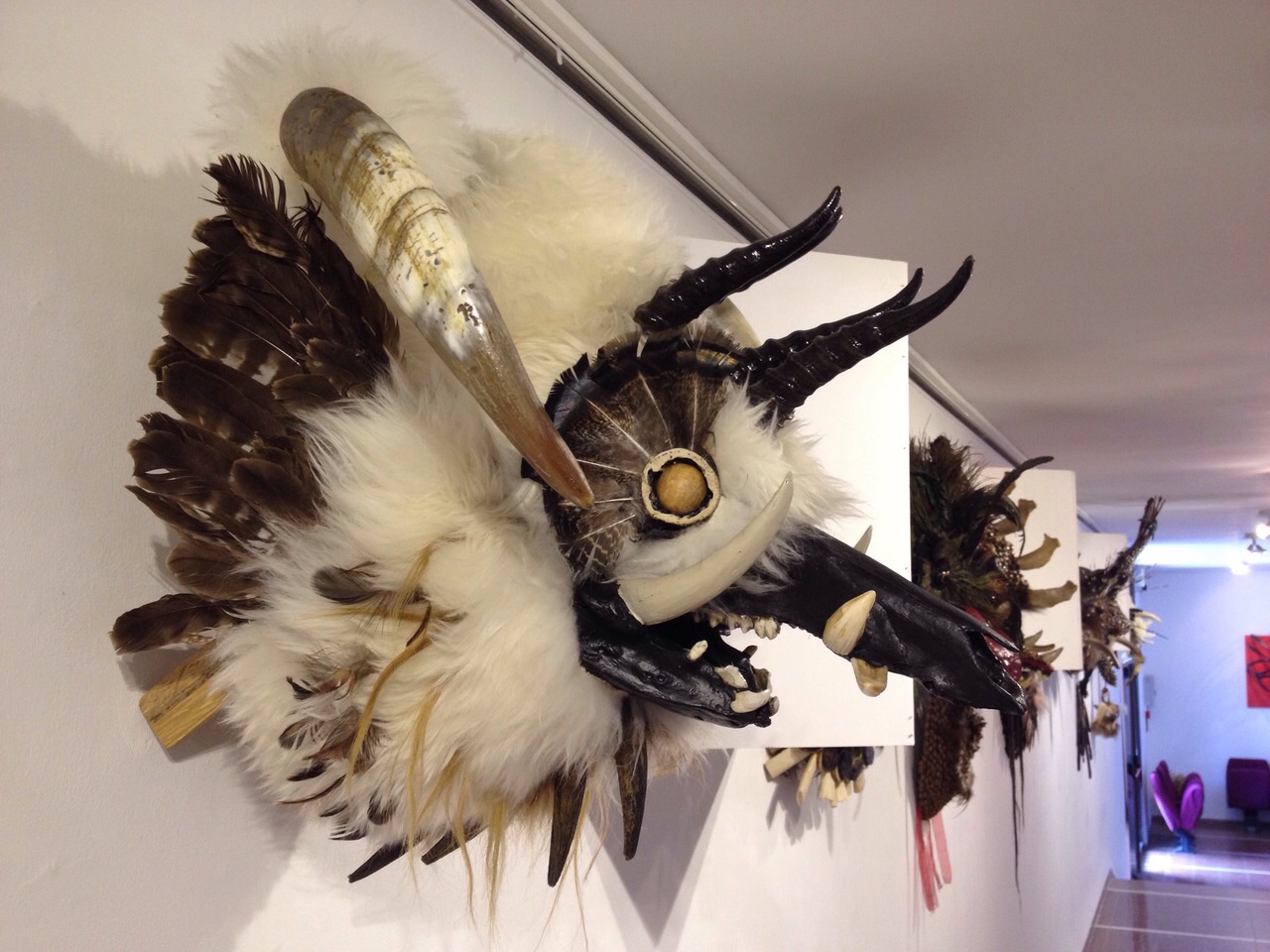 "Surrealist Masks Made with Animal Bones in Israel." It's a headline bound to brand an impression onto one's memory bank of places and experiences to avoid. However, to my great disbelief, a fascinating (and somewhat freakish) exhibition of massive tribal-like masks by an emerging Israeli artist known as "Pirush" managed to capture my imagination.    
Opening April 20th and running through May 2nd at the Kuli Alma Art Gallery in South Tel Aviv, the "Pirush" exhibition reveals 12 never-before-seen works actually created by Israeli artist Ofir Levy, brought to surface (and discovered) by the Israeli art publication AF Magazine. The exhibition showcases the ornate and meticulously composed animal masks created by Levy in a stunning display that brings witnesses into the imaginative mind of the reclusive forager-turned-artist.
Levy gathers his materials during hikes and sunlit strolls through a kibbutz in the tree-laden Jezreel Valley he calls his home. Skulls, bones, teeth, fur and leather from decomposing animals are all used as the raw materials behind his works.
Following a meticulous processes of cleaning, painting and assembling with a new breath of imagination, Levy transforms the elements discovered in nature, dressing each with wood, shells and pine. While no animals were hurt, injured or killed by the artist during this process (phew), one finds themselves questioning the inspiration and creativity for Levy's artistic typeset.
(c) Itamar Talmon
(c) Itamar Talmon
(c) Itamar Talmon
(c) Itamar Talmon
(c) Itamar Talmon
(c) Itamar Talmon
(c) Itamar Talmon
(c) Itamar Talmon
(c) Itamar Talmon
(c) Itamar Talmon
(c) Itamar Talmon
(c) Itamar Talmon
My impressions from the exhibition were plain and simple, but left room for thought: Levy grants the dead new life. Each mask contains a new identity of its own, a part of a personal mythology and a reflection of the unseen parts of the artist's soul, both troubled and beautiful all at once.
The Pirush exhibition's kick-off event will also feature a short documentary, created by AF Magazine, detailing Levy's artistic process. Every other night, guests can partake of Tubi cocktails, banging house music and the loads of colorful personas flocking to the Kuli Alma gallery with astonishing regularity. 
What do you think?