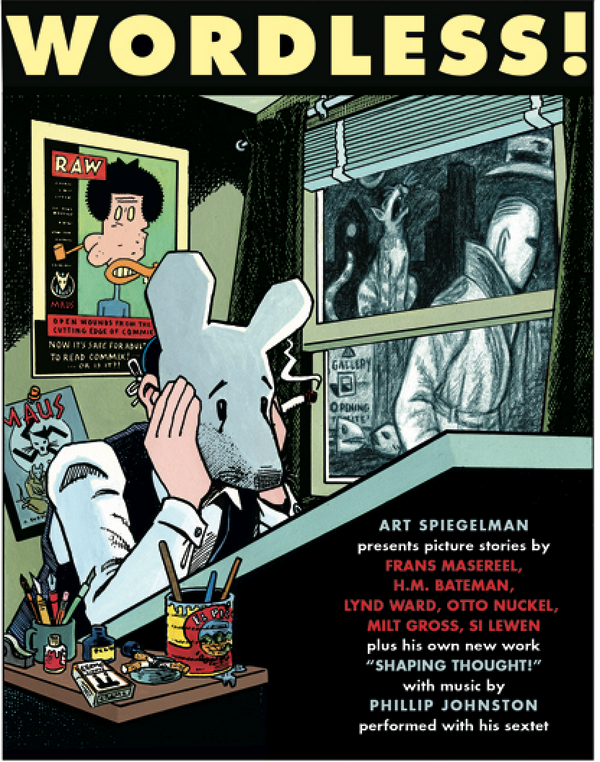 There's lots to love about Art Spiegelman.
There's MAUS, his Pulitzer-prize winning graphic novel depicting the horror of his father's Holocaust experience; Arcade, the unparalleled 70s underground comix anthology he co-founded with "Zippy the Pinhead" creator Bill Griffith; RAW, the uber-influential 80s avant garde comix anthology he co-edited with his wife  Francoise Mouly; Wacky Packages and Garbage Pail Kids, the scintillatingly subversive cards he co-created for Topps; his New Yorker covers, and now WORDLESS!  – an "intellectual vaudeville show." Currently on tour, WORDLESS! is a hybrid of comix, jazz, and lecture, co-created with musician Philip Johnston who, along with his sextet, performs the live score to the images on the screen. WORDLESS! is multimedia edutainment at its most sublime, a bringing-to-life of works that had a profound influence on Spiegelman's own art, the "silent" comics and woodcut picture novels by early 20th century artists Frans Masereel, Lynd Ward, Milt Gross, Otto Nuckel, Si Lewen, and H.M. Bateman.
I popped by Art Spiegelman's studio (essentially what you'd imagine the graphic novel library in Heaven to look like) for a show and tell re: influences on WORDLESS!
Before we hit the subject at hand, I had to ask about an item that caught my eye — a Maus action figure?! Turns out it's a one-of-a-kind, sculpted as a gift for Spiegelman by Romeo Gomez, an art student in Mexico. Before Spiegelman received it, he was sceptical to say the least, worried that such a thing might be tacky bordering on perverse, but when it arrived, he was floored because "it was somehow just right."
I then asked Spiegelman to pick two of the WORDLESS! creators and show me something special from each. From his "Wordless! bookshelf," Spiegelman pulled out The Library of America's Lynd Ward: Six Novels in Woodcuts
"I first discovered Lynd Ward's work in the mid 60s when they reissued some of it, and I've since collected his woodcut novels from antiquarian bookshops – they were the core of what became the Wordless! project. He was a big influence on my own work, when I finally discovered expressionist art other than the expressionism of Jerry Grandanetti and other obscure comic book artists…In 2010, The Library of America finally did their first visual book, the six woodcut novels of Lynd Ward, and asked me if I would be the presenting editor which meant writing an introductory essay. That's what made me start really thinking about all this stuff again and how important it was to development of what has now gotten to be called the Graphic Novel. It was beyond the call of duty but I made an "intial cap" illustration for the essay in scratch board that imitates the wood cut style of Lynd Ward…."
Then we walked over to a mesmerizing door-length ghost-like charcoal painting by Si Lewen, to whom Albert Einstein wrote a fan letter in 1951 "Our time needs you and your work…" Einstein was moved by The Parade, a wordless picture novel that tells the saga of never-ending war as witnessed by Lewen, who watched parades in Germany after World War I morph into the death marches of World War II.
"The last addition to the evening of performance is an artist named Si Lewen who's work I just discovered while researching the rest of Wordless!. He made his wordless book, The Parade, right after WWII. I was looking to find out how to arrange rights for it, and found out he was still alive and 96! Phillip and I went to visit him in an assisted living facilty. He turned his apartment there into a SoHo painter's loft, with all of the accouterments. One of the series he created is called "Ghosts." He made hundreds of these charcoal paintings. He let me take one and said "don't frame it; just put it up like a shroud and just pin it to the wall." These ghosts were what he experienced, what he saw as a GI liberating Buchenwald. He was part of a group called the Ritchie Boys, soldiers used for counter-intelligence because of their German language abilities. Si is an amazing man and one of the richest parts of doing this project was meeting him."
In addition to presenting his favorites, Spiegelman also drew a new "silent strip," "Shaping Thought," for WORDLESS!
*****
For more WORDLESS info, including tour dates, check out Art Spiegelman's WORDLESS!
Read HEEB's 2008 interview with Art Spiegelman (2008) by Brian Heater
What do you think?