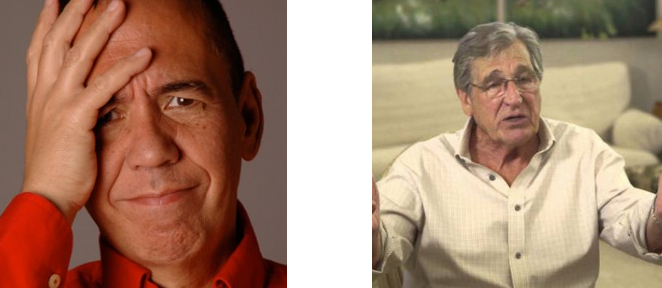 For those of you who, like me, obsessively follow the ongoing mitosis and meiosis of friendships and feuds that make up the world of professional comedy, the dust-up between legendary comedians Gilbert Gottfried and Shecky Greene was big news.
If you missed the comic kerfuffle when it went down this past April, the whole thing hinges on Shecky Greene's having been offended by Gilbert's performance at a Friar's Club roast of Freddy Roman; Greene was so incised that he walked out of the event, and allegedly shredded his Friar's membership card in a fit of rage. (Our interview with Gottfriend talking about the incident can be found can be found here). It's the sort of animosity you don't often see in show business these days: bare-knuckle grouchiness without the soothing finesse of a PR rep to keep the incident out of everything but the lowest shelf of grocery store tabloids.
But now, seven months later, it seems as if Gilbert and Shecky are poised hash out their differences, or perhaps lock horns again, on an upcoming episode of Gottfreid's Amazing Colossal Podcast.
In this teaser clip from the upcoming episode,  Shecky does his best – not entirely friendly – impression of his podcast host:
Amazing Colossal has, to date, focused primarily on anecdotes and ephemera from old Hollywood. Gilbert and co-host, comedy writer Frank Santopadre, display a staggeringly encyclopedic knowledge of stars and stories from showbiz's bygone years, with guests ranging from talk-show host Dick Cavett to Adam West along for the ride. However, given the well-publicized history between Gilbert and Shecky, Greene's visit to Gottfried's show has the potential to be a much more contentious affair – the first ACP visitor with whom Gilbert has real friction. Unlike previous episodes, this one could be something of a high-wire act: Will they kiss and make up? Will Shecky storm off in a huff…again?
We won't know until full episode goes live on Oct. 20th.
*****
Gilbert Gottfried's Amazing Colossal Podcast can be found on the Sideshow network, and subscribed to via iTunes. 
What do you think?