I know, I know, the midterms just ended (horribly) a few weeks ago, and you're absolutely fucking sick of politics for the time being, right? Well suck it up, people – this here is an election that matters! Our pal Fat Jew (aka Fabrizio Goldstein, aka Jewther Vandross, aka "The King of Brunch") is running for President Of The Internet, and dammit if he doesn't have big plans in mind already.
Fat Jew announced his candidacy as part of Paper magazine's "Break The Internet" blitz, of which Kim Kardashian's bare naked tushy played a major role. And while her ass may have broken the internet, Fat Jew has certainly added a crack of his own.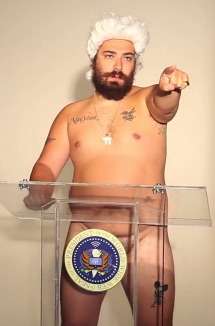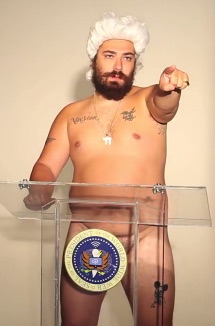 Head over to Paper to read Fat Jew's full interview in which he lays out his political platform, including banning Buzzfeed, and instituting a "National Gonzo Pornography" Day. He also plans to have among his advisors "one white Jewish girl who can alert [him] to stuff on Facebook [he] should be seeing." Well, have you meet Heeb's intern pool? Take your pick, man.
All I ask in return is that you think of us kindly when your internet presidency inevitably becomes a brutal(ly awesome) totalitarian regime.
[cover image via youtube screenshot/Paper]
What do you think?