In all fairness, you probably can't expect someone who uses the term "AssRape" when tweeting about the World Cup to be articulate. But then again, New Yorks "Cupcake Crew" went even further when two days ago they Tweeted "Ironically what the Zionist Pigs are doing to Palestinian Arabs today is exactly what Hitler and the Nazi's did to them. #FreePalestine."
Aside from the literal historical inaccuracies of comparing Gaza to gas chambers, the term "Zionist pigs" actually gives us the opportunity to finally FINALLY use our "Anti-Semite" stamp. And you know we've been itching to use it for weeks. But while the irony is that while most are up in arms about it on Twitter, we already know that the cupcake bubble has already burst. So, whatever, right? Maybe our apathy for sugar and butter is even why the Cupcake Crew food truck has been inoperable for months.
Tablet Magazine did some Twitter sleuthing (hey, better them than us!) and found these choice cuts from the company's greatest Tweets collection, like this fan favorite: "I find it funny how the family of the Jew slumlord from Bklyn who was kidnapped wants the police & publics help.Scumbags get street justice!" Or do you guys remember this one: "Hysterically laughing listening to French comic Dieudonne Viva La France!" a reference to anti-Semitic French comedian Dieudonné M'bala M'bala.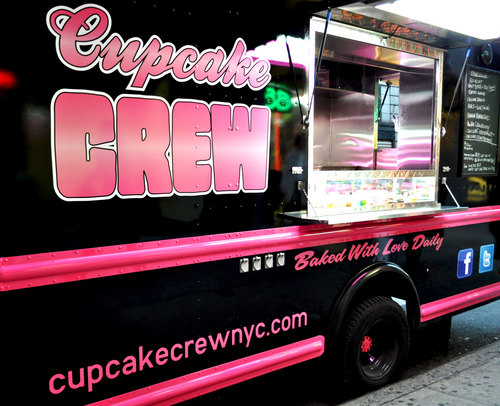 It makes one wonder why the Cupcake Crew would even want to cater Bar and Bat Mizvahs…? Or maybe they're willing to sacrifice their outspoken ideas for a shekel? [Ed. note: C'mon, man. Did you have to reference the Zionist pigs' currency?] But the thing I find most offensive from all of this is the Crew's absence of testicles. I mean, if you're going to go out there and retweet propaganda cartoons, then grow a pair. Stick to your launched rockets and don't delete the tweet. Yet the Twitter handler's one response is a cartoon with the caption that reads "Shhhh! Denouncing Israel's war crimes is anti-Semitism."
I've been seeing this pseudo-counter defense popping up on social platforms these days as if responding to a response with the ole Cry Wolf is justification for, in this instance, saying something blatantly anti-Semitic. See, Cupcake Crew's mistake was attaching the word "pigs" to "Zionists." Otherwise, it would have been, yes, offensive and again, historically inaccurate, but it wouldn't have been anti-Semitic, which then invalidates the logic behind his aforementioned retweet defense strategy. But the strange thing is that I've seen people on Facebook implying "zionists" as a derogatory term, such as coming to Israel's defense on Facebook is now a "zionist gangbang."
Look, I'm proud of all of you for remaining vigilant on the Twittersphere, but the Cupcake Crew now has 4,789 and presumably 3,000 of those have followed them in the last day. In fact, I wouldn't be surprised if this even becomes a champion cause for someone with an agenda and Cupcake Crew will soon be serving this stuff to people looking to make a statement. And wow–those people will finally have the opportunity to enjoy " puny little cupcakes. And dry. And not much flavor" for "a experience really worth avoiding!"
What do you think?