CRONUTS
In case you've been living under a rock, even if your gluten free, surely you've heard of Cronuts™, ½ donut and ½ croissant dough slammed together, and deep fried and glazed, topped off with sugar, or some other high-clogging-artery topping.
Although the smell of fried Cronuts is quixotic, after a bite of this rich buttery sugar-coma-inducing pastry, I was so nauseas, I needed Zofran. A Cronut should "come with" a cardiothoracic surgeon manning an echocardiogram, followed by coronary angioplasty.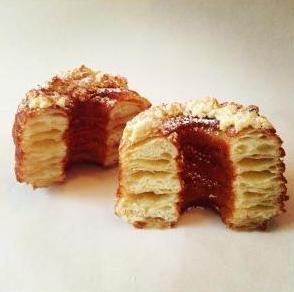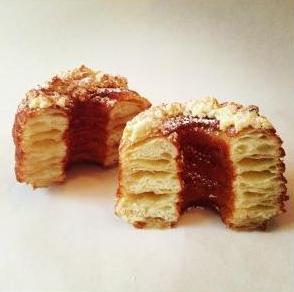 While tasting my Cronut, I bared witness to someone eating – no – inhaling 3 Cronuts. His gumption was admirable. The fact that he didn't drop dead of a massive heart attack was even more praiseworthy.
You might be wondering why I chose Cronuts. Who cares about something that's ancient history (2013)?! The back-story made my knees weak and my gums itch. I fell madly, desperately in love with Cronuts because of the controversy surrounding Cronuts. How fabulous and dramatic is that?!
From our good pal Wikipedia: "Due to its limited production and exclusivity, the Cronut spawned a black market in New York City with scalpers selling them for up to $100 each. The original pastry price is $5"
!!!
Cronuts are the mobsters of the pastry world. Henchmen slinging dough for triple digit cabbage; so bad ass!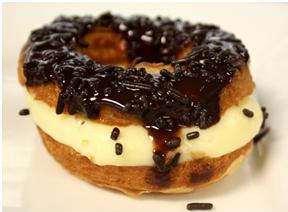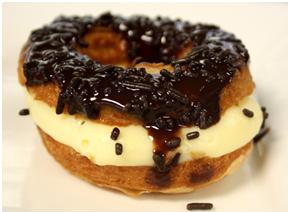 For people who frown on the name Cronut, Chef Alina Eisenhauer of Sweet Kitchen & Bar in Worcester, Massachusetts has been serving her Dosants since 2008. For me, the cachet died when I read that Baker Roy Auddino says he has been making Doughssants since 1991. I mean, it's just hopelessly on the nose.
Ice cream stuffed Cronuts: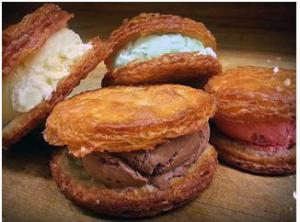 A fucking Cronut HAMBURGER with CHEESE?! This should come with a warning label: Before eating, bribe someone at UNOS for a new heart.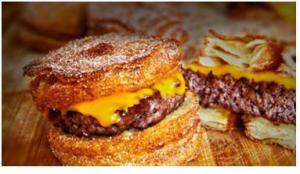 That concludes my visual binge of the Cronut landscape.
IS IT JEWISH?
THE CASE FOR:
The day Sarge's Deli sells corned beef on Cronut with Russian dressing is the day the Jewish Deli sits Shiva for itself.
THE CASE AGAINST:
Cronuts reek of non-Jewish pastry fusion that we are all tremendously grateful for, even if it kills us.
VERDICT:
Cronuts are non-Jewish
*****
NEWS & INFORMATION
I love my dad so much, and his enthusiasm for "Is It Jewish" is inspiring. Often, he sends me tidbits and ideas for the column, or he'll post interesting comments, ripe for discussion.
This week, together we are covering "News & Information." Schwartz's spin is as follows:
"News and information delivered online is not the same as someone talking to you face-to-face, or on television. You can't see their face or know their name so you don't know if they're Jewish or not. It could be some schmuck from another country telling you what's wrong with your country or your city. Who is he to tell you that?! Not Jewish."
He makes a point.
I love the frenetic nature of news and information disseminated via social networks. Everyone wants to be the first to break the story and respond with the wittiest yet scathing commentary. Hash-tags, trending yarns, and Instagram photos of the individual espousing quippy captions.
I love it- love everything about it.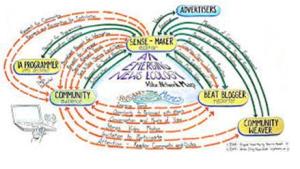 IS IT JEWISH?
THE CASE FOR:
Without getting biblical, if you can't see the person delivering the news, it lacks vocal cadence paired with expressive hand gestures. This strikes me as a major buzz kill for Jewish intellectuals, political activists, and opinionated people. On the other hand, if you're creating the conversation or contributing to it, and it's retweeted and shared multiple times, it's a killer fat free high.
THE CASE AGAINST:
Non-Jews seem as undecided as me and Schwartz.
VERDICT:
News & Information is religiously neutral (I almost wrote neutered).
*****
FOODIE PRESENTATION
After reading this article in Dangerous Minds, I was disgusted. The lengths trendy restaurants go through to present their food to customers is out of hand. If a sneaker brimming in dry food was placed in front of me, I would, without missing a beat, whack the chef with it.
There's a movement and a Twitter account aptly named "We Want Plates!" Wait until you see the pictures. You'll see records adorning food, ice shoes filled with shit you're supposed to eat, and a pot used for plants, among other INSANE say what things.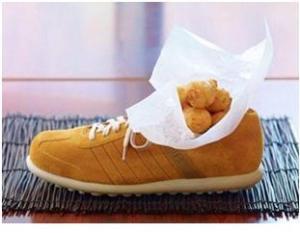 Ya-fucking-hoo, FINALLY it's acceptable to literally shovel food into our mouths. Forthcoming, we can only hope troughs usurp family style plates.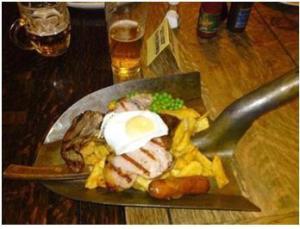 And this… Question: Who wants to eat French fries out of doll sized shopping cart? Online, I've seen more appetizing Wal-Mart customer filled carts. (Speaking of, I long for the day – and it's coming – when hipsters find a way to make big box stores hip.)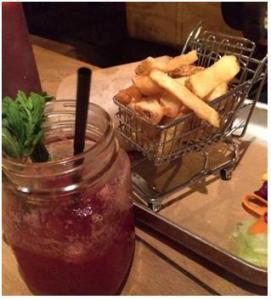 WHAT THE FUCK IS HAPPENING HERE?! Fresh head bread out of a vintage beret and cheese laid out on – what is that, a handkerchief?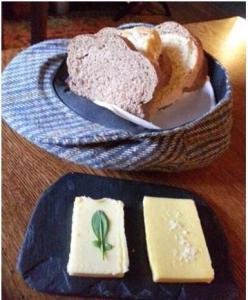 Desert is served in a toxic, was filled with mold, can of soup- label still intact. Love the superhero send-up. I think this may well be the most nauseating serving system I've seen so far.
Last but not least, shock aside, that this is called a salad; it's on a massive hernia in waiting slab of rock that probably costs 7,000 dollars.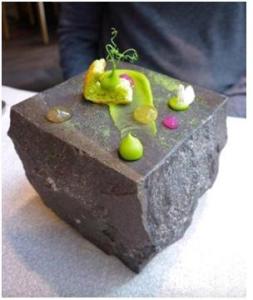 IS IT JEWISH?
THE CASE FOR:
Among the hipster set in Brooklyn, Los Angeles, and Portland, obviously. Can you imagine what Seder plates look like? I hope it will be these earrings.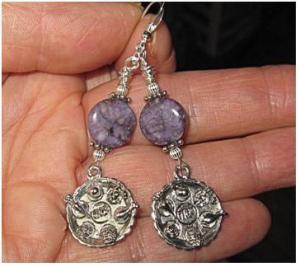 THE CASE AGAINST:
He who mans the most dramatic mutton chops will be privileged enough to receive his meal woven into them. She who rides her yellow bicycle with a basket will feel honored to drink her leaking soup from it.
VERDICT:
Jewish or non-Jewish, deciding haunts me, though I shall. (Sigh) Foodie Non-Plates are Jewish.
What do you think?