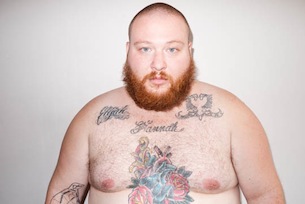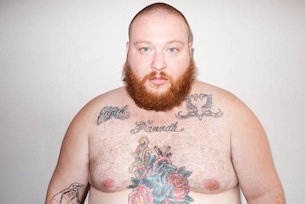 Chosen Music is a regular column that highlights recent noteworthy releases, or features news about an artist we're enthused about.
Rapper Action Bronson could not be a more unlikely candidate for the role of the Critically Acclaimed Rapper. For one, he has a gourmet chef background. And even stranger, he is an Albanian Jew. But the 27-year-old MC from Queens bears an uncanny stylistic likeness to Ghostface Killah, and his latest mixtape titled Blue Chips, available as a free download, is garnering him praise from the critical hip-hop blogosphere (which is earned less often than, say, love from a Jewish white guy)
A few years back, Heeb unofficially instituted an embargo on Jewish white rappers because there were so many bad ones (of which we could make a coffee table book about one day…), but Bronson inspired us to lift the ban for the time being. That is, until we get another email from this guy.
—————-
Erin Emm and Jesse Cohen, otherwise known as the synth-pop duo Tanlines, couldn't have anticipated that we would have such great weather. But their debut album Mixed Emotions , released this week, begs to be heard at an outdoor party. On the surface, these songs are accessible, stimulating, and referentially familiar enough (i.e., the 80s) to be liked instantly, but deeper down, in reference to craft, songs like "All of Me" and "Real Life" are skittery, polyrhthmic, and substantive. It's one thing to make an inescapably hummable song, but it's quite another to do it in such an aurally sophisticated way.
The dystopian video below for the single "All of Me" was directed by Julian Barratt, one-half of the avant-comedy duo Mighty Boosh and it's pretty out there.
What do you think?