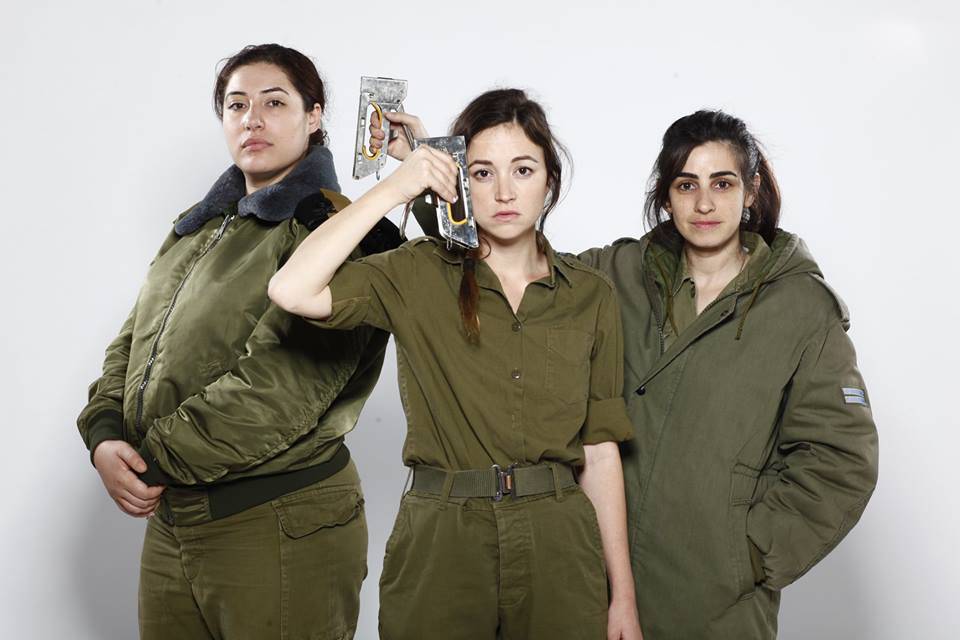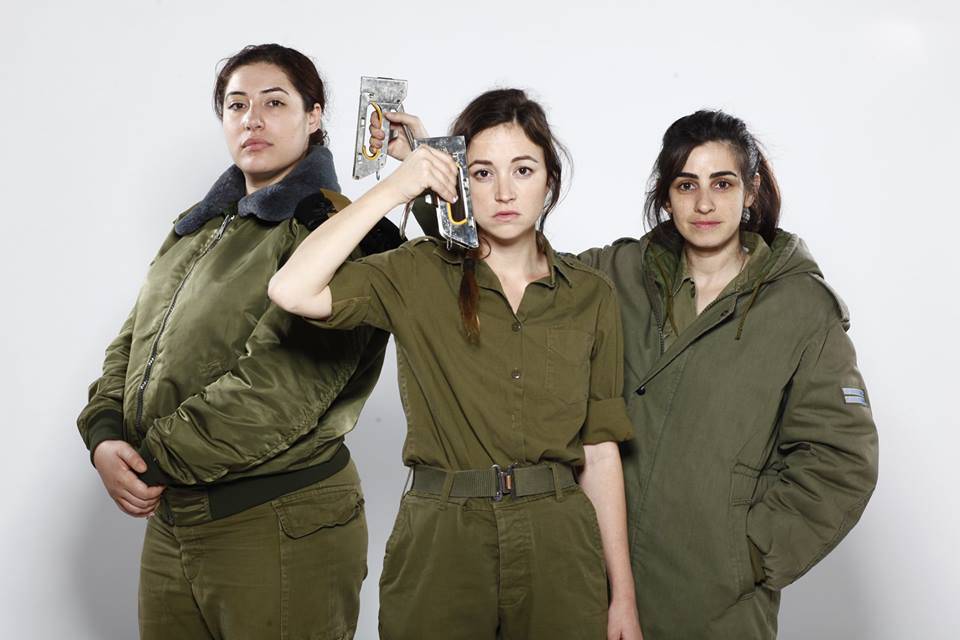 In a recent interview with The Mary Sue, Talya Lavie, first-time director of the Tribeca Film Festival hit Zero Motivation, shared a bit about the the lives of non-combatant female Israeli soldiers, saying:
There are a lot of women who serve in combat, but I wanted to focus my film on the women who never see action. Because there are so many army films made in Israel, but most are about the men in combat.
While this might be a source of intrigue for the casual movie-goer, here it is only the tipping point: Zero Motivation is at times zany, bleak, larger-than-life, and devastating — sometimes within the span of just ten minutes.
Zero Motivation is set at an army base called "Shizafon (at one point referred to as to it as "Shits-a-Phone"): it is there that we meet best friends Daffi (Nelly Tagar), a slightly-bratty slacker whose only wish is to transfer to a base in her dream city of Tel Aviv, and Zohar (Dana Ivgy), a former kibbutznik kid whose deadpan cynicism and snark-laden one-liners mask a wounded, tender, but ultimately optimistic soul. As army pencil pushers in the Human Resources Office, in charge of sub-departments like "paper and shredding" and "mail," both twenty-somethings spend their dull, sluggish days attempting to beat the world record for Minesweeper and staging stapler gun shootouts. All of this is much to the chagrin of their commanding officer, Rama (Shani Klein), a straight-laced, aspiring military careerist who can't even keep her own office in line. But when Daffi, out of self-serving desperation, decides to enlist in officer's training in hopes of being eventually assigned elsewhere — and to leave Zohar behind at Shizafon — the girls have an eruptive fallout that sets a course upon which we, the viewer, can examine their motivations, trajectories (or, in some cases, lack thereof), and ultimately, their all-to-real, female relationships.
In Zero Motivation, Lavie gives us a film that swings from black satire to abject horror to slapstick with the grace of a balletic assassin. Existing somewhere in a state between hard-knuckled realism and hysterical reality, Zero Motivation employs anything and everything: farcical comedy, gritty tragedy (rape and suicide, for instance, are not shied away from), and a throwback to old-world dybbuk folklore are thrown into the mix, with electrifying (and well-earned) results. This is made possible, in no small part, by the film's non-traditional narrative structure – it is split into three parts that are not quite episodes and not quite vignettes; the anatomic breakdown of the film, rather than being interruptive, lends itself to an overlapping sense of aimlessness that is both epic, and existential. The thematic focus — how motivations, however well-intentioned, can be thwarted by the cosmic definition of our own small pettiness, or even more so, our paltry worth when compared to the bigger picture — is ripe for comedic riffing as well as  stark philosophizing, both of which the film executes almost flawlessly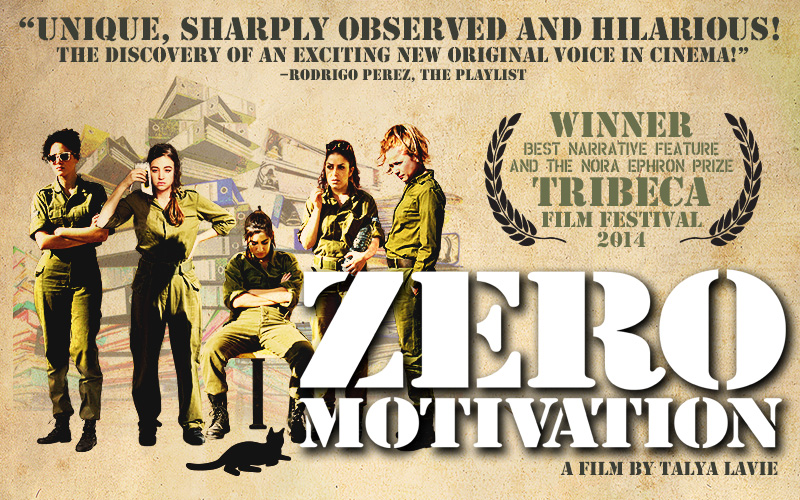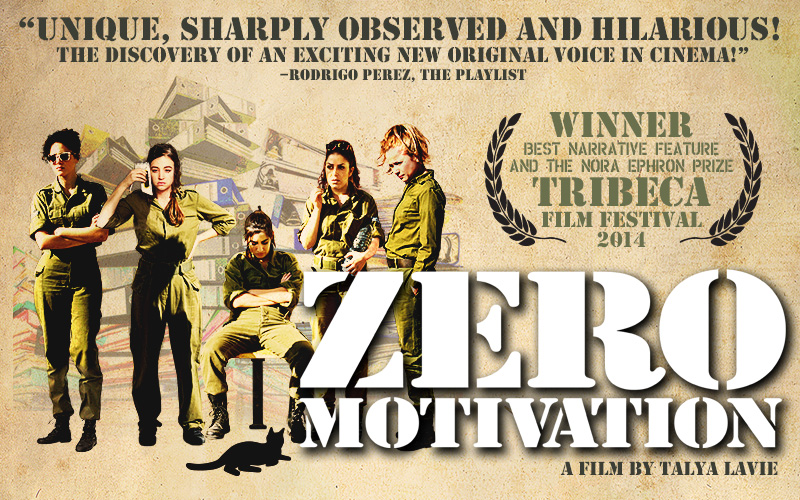 This, of course, is only made possible thanks to pitch-perfect performances by the film's leads and ensemble cast.  While Daffi's monomaniacal dream of moving to Tel Aviv sometimes verges on the side of irksome, its Tagar's acting chops which add a multidimensional slant to what might otherwise be seen as a two-dimensional desire. Despite Daffi's narcissistic tendencies and propensity for badly-timed crying jags, a genuine, fierce yearning shines through. Similarly, her fellow office lackeys each have their moments in the sun with impeccable comic timing and impulse. Of particular note is a standout performance by Ukrainian-born Tamara Klingon, who plays Irena – a Russian emigre who may or may not be possessed by a ghost – with a droll, husky-voiced wit that is irresistibly intelligent and sexy. The real heartbreaker of the movie, however, is Ivgy: A lesser actor would allow her character of Zohar to veer into a caricature of a sabra. It's a genuine, almost explosive vulnerability that Ivgy allows us access to in quiet moments, through the quickly-stifled tremble of a lip, or the wet disappointment that reveal, if only for a moment, the true heart of her character.
Zero Motivation has been touted by some as Orange is the New Black meets M*A*S*H* (meets the IDF, subsequently). While the latter might have some credence, it would be more apt to place it in the same disaffected camp as Lena Dunham's Girls; an attribute that allows Lavie's incisive film to cross international boundaries.  It is a film that will hopefully be the first of many from Lavie, whose incandescent sense of what it means to be human will make anyone a fan of not only this film, but of its director, as well.
What do you think?