Rush bassist/lead singer Geddy Lee is a rock icon. He is also Gary Lee Weinrib, born in Willowdale, Toronto, to Holocaust survivors Mary and Morris Weinrib. Perhaps this provides a clue as to why so many confused suburban teenage boys—myself included—spent hours in their respective dimly lit basements air-guitaring along to Rush—because Lee himself was once a confused suburban teenage boy grappling with self-confidence, religion and identity. These weighty themes of alienation and insecurity resurface time and time again throughout Rush's 19-album catalogue—whether it's exemplified by the self-proclaimed cast-outs in "Subdivisions," the pent-up, corporate slave in "Working Man" or the powerless puppet in "Freewill." Recently, I chatted with Lee during one of his rare breaks from a nearly 30-year touring schedule, releasing Rush's new album, Retrospective III, and from racking up the praise for his cinematic turn in the new Paul Rudd/Jason Segel comedy, I Love You, Man.
 *****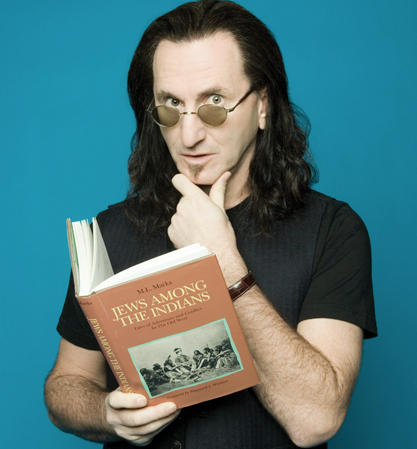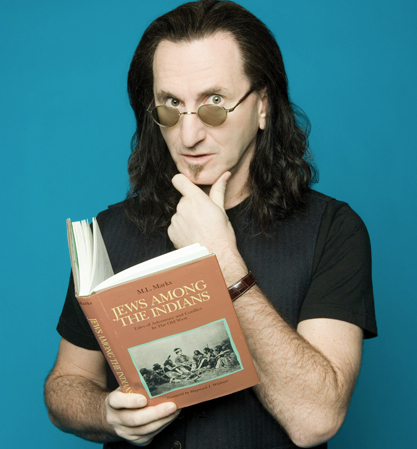 When did Gary Weinrib become Geddy Lee?
Lee was my middle name, and my friends all called me 'Geddy' ever since I was 11 or 12. A friend of mine started calling me that because he had assumed that that was how my mother was pronouncing 'Gary.' She had a [Polish] accent.
Is there a real difference between Gary and Geddy?
Yeah, in a certain way I felt like I was leaving the little nerd from the suburbs behind and becoming a rock star.
My favorite record is Grace Under Pressure (1984). The single 'Red Sector A' is about the Holocaust, correct?
That song goes back to a story my mother told me about being liberated [from Bergen-Belsen] and how she wasn't quite sure what was going on. She was in a section of the camp, working and looked out the window to see all these soldiers with their arms up. She thought this was some sort of new salute to Hitler. She hadn't realized that they were being liberated. But when she finally realized, her first reaction was, 'What took you so long?' All the while, she had assumed the rest of the world was suffering as well and going through similar conditions….When I told this story to Neil [Peart] (drummer and lyricist), parts of the story had some impact on him, and he came up with 'Red Sector A.'
You went back to the camps not too long ago?
Yeah, I went with my mother in 1995 and with my brother and my sister. We went to Bergen-Belsen, where she was liberated, and it was the 50th anniversary of the liberation of that camp. While we were there, we went back to the town she was a child in, as well as Auschwitz, where she was before being transferred to Bergen-Belsen. This was our opportunity to revisit her life, and it gave her a real sense of completion, the closure of that horrible part of her life.
What was it like for you to visit the camps after hearing these stories for so long?
It felt good going back with her—regardless of how intolerably devastating visiting a concentration camp was. The fact that she survived, along with my grandmother, aunt and uncles—the fact that she was living evidence against the perpetrators of the Holocaust—was kind of uplifting. I know it might sound strange, but I remember she turned to me and said, 'I wish my brothers and sisters had come along on this trip, because they would experience the feeling of having won the war.'
You've mentioned in the past that you consider yourself Jewish but not…
[Interrupts] I consider myself a Jew as a race, but not so much as a religion. I'm not down with religion at all. I'm a Jewish atheist, if that's possible… I celebrate the holidays in the sense that my family gets together for the holidays and I like being a part of that. So I observe the 'getting together' aspect.
Do you feel that being Jewish has impacted your music?
Oh, yeah. I grew up feeling the alienation that many kids feel growing up. I wasn't a particularly social kid. That creates a feeling of being an outsider. I spent a lot of time living inside my own head, and our music is full of those kinds of stories. The comfort of knowing that you're not the only one who experiences alienation, and we have fans that have looked for comfort much in the same way that we've looked for comfort from our own music.
Do you ever stop and think: 'Whoa, dude. I'm in Rush.'
I can't look at Rush objectively. It amazes me that I've had so many fortunate things happen to me over the years. But I can't view it as a 'whoa' thing. Don't get me wrong—it's awesome, but you know? Back in the day, were there debauched times?
It's my impression that you're a pretty well-behaved band.
We're nice boys. But I can't vouch for us being well-behaved every night.
Are there any classic rock and roll stories you'd like to share?
They will stay with us to the grave.
Come on, none?
[Laughs] My mother could be reading.
What do you think?